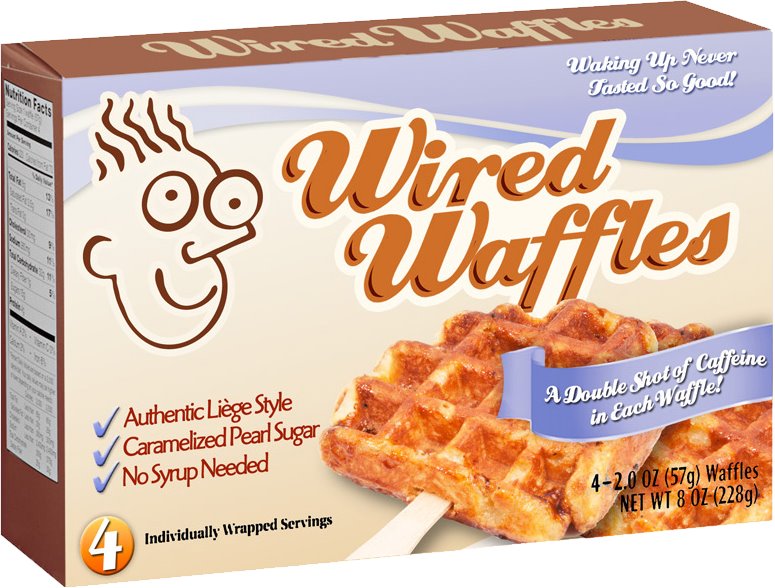 Wired Waffles cooks things up in the Shark Tank this Friday with a unique twist on two old breakfast staples: waffles and coffee. Entrepreneur Roger Sullivan has infused waffles with a "double shot of caffeine" to create a new way of getting kick started in the morning.
Roger Sullivan Background
Roger strikes me as an inspirational kind of guy. According to a post on the Wired Waffles blog, he's been involved in a variety of businesses from "selling snake oil and Amway to Roofing." He also had some sort of wholesale business called Espresso Shopper. I suspect Mr. Williams has had some experience with online affiliate marketing as well. In sifting through his profile and reading some of his posts, he's a man who has seen ups and downs in his business life – he nearly lost his home a few years back, yet he has that Positive Mental Attitude that asks "why wouldn't I?" Mr. Sullivan exudes the entrepreneurial optimism that is tantamount to success in business. He's a student of Napolean Hill's Think and Grow Rich, a book I have read countless times and a must read for any entrepreneur. In short, Roger Sullivan seems like a guy who, once he decides what he wants, just goes out and gets it.
Wired Waffles are Waffles with a Kick
What ever caused Mr. Sullivan to pursue creating a waffle that is an energy supplement is a mystery. On the surface, it seems like an offbeat idea. Wired Waffles is an offbeat company too. Their website is a quirky mix of  e-commerce and inspirational blog; even the company profiles are fun and just a tad self-deprecating. That's OK, I have always believed it is OK to laugh at yourself, because there are always plenty of other people to join in!
Back to the waffles. Wired Waffles are more than just waffles. They are billed as an energy supplement or "energy waffles." They ought to be; each Wired Waffles serving is infused with the equivalent of two cups of high test coffee. Think "Five Hour Energy in a Waffle." They come in four flavors (Cinnamon, Bacon Maple, Chocolate Chip & Sweet Sugar) and Wired Waffles even sells a caffeine loaded maple syrup. Down a couple of these with some syrup AND a cup of coffee and you'll have plenty of energy to get you through the day! They're also good on the go; plop a waffle or two in your lunch box and you have a yummy snack that will give you that jolt when you need it.
Wired Waffles are a fun and funky twist on energy bars, most of which taste like crud in my opinion. Maybe a waffle will taste better. Either way, it's a novel idea for food on the run. They nuke up in the microwave in 15-20 seconds and, if no microwave is available, you can munch them right out of the pack. They run about $2.60 a waffle, a bit steep for some, but cheaper than a coffee at most upscale coffee shops (and with the same effects). It's a pretty straight forward product.
Do Sharks like Waffles?
One of the first things Roger Sullivan will do once he's done his introductory pitch is hand out waffles to the Sharks. The big question is will they like them? If they do, he moves forward. If they don't like them, he's done. Assuming the Sharks do like the waffles, they may bite on the business. The product can't cost much to make, it is unique, and the price point assures most folks wouldn't be deterred by price. There are other energy waffles out there, but not infused with caffeine.
Currently, you can only buy energy waffles online. What a business like this needs is retail distribution. This is yet another food business on the Shark Tank that will likely benefit whether it gets funded or not. Unlike other products that appear on the show, food items (whether funded or not) that appear on Shark Tank give a business the marketing clout they need to get appointments with buyers and shelf space in grocery stores.
It's going to come down to taste and sales.
*****SPOILER ALERT******
On July 27, Sullivan writes in his blog: "SO I have been working the last two weeks on contracts for taking on a couple investors. OK pause for a moment and let that sink in . . . Because that is a very big deal! It represents the fact that I have created something that others want to be a part of and they are willing to invest their own money to do so."
That date would jibe with the first round of taping;  I wonder if any of Sullivan's investors have fins?
I am "In."