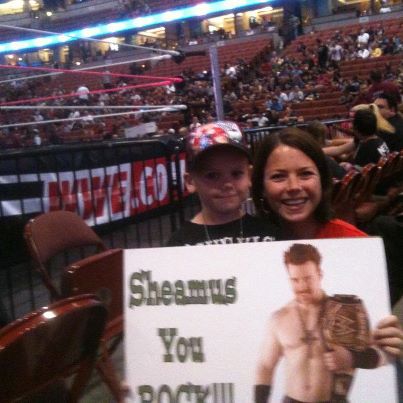 Shelly Ehler is taking on the WWE in the "it doesn't get much stranger than this" category. The popular Shark Tank entrepreneur took a much-needed break from hitting the Water Park Operators and USSA Swimming trade shows to take her eight year old son to see his WWE idol, Sheamus, battle "bad guy" Alberto Del Rio at the Honda Center last weekend.
As a former HUGE fan of WWE wrestling (it was called the WWWF in my day), my boyhood favorite was Living Legend Bruno Sammartino. I spent many Saturday mornings watching wrestling on our little 19 inch black and white TV and many Saturday nights at the old Boston Garden watching the wrestling stars of my youth. My parents weren't into wrestling – they thought it was dumb, but my uncle took us to EVERY WWWF show; we practically had season tickets!
Shelly Ehler battles Alberto Del Rio
Shelly got ringside seats for her family and her son as a special treat. The kid is a big fan of Sheamus, the WWE's latest hero. He was battling Alberto Del Rio. As Del Rio entered the ringside area, he took Shelly's little boy's sign and attempted to tear it up. Apparently the bad guy wrestler is too weak to tear up a piece of cardboard, he had his manager, Ricardo Rodriguez, tear it up for him! It didn't matter, Shelly's boy was in tears!
Shelly remarked, "What happened to [my son] should never happen to a kid. Bullying a kid is NEVER OK. I know these guys are playing 'characters' but they should NEVER target kids. Taking a child's sign (that he was so proud of) and ripping it in front of him. Really? I looked at him and said, 'He's crying!' He mocked him for crying and tore the sign again. Wow. Really couldn't believe it."
It shouldn't be a shock that professional wrestlers stay in character, but going after an 8-year-old kid crosses the line, even for a heel like Alberto Del Rio. I wonder if Vince McMahon will come down on the wrestler for making such a bad PR move. On a happy note, Sheamus said he'd send young Mr. Ehler an autographed photo. I suspect that once the shock of this incident wears off, Shelly's boy will think this is one of the coolest things to ever happen to him!
Grudge Match in the making?
I think Shelly should book a gig with the WWE as Sheamus' guest manager in a grudge match the next time he faces Alberto Del Rio in the squared circle. They could march into the ring wearing custom WWE ShowNo Towels and, when Del Rio's back is turned, she could slip it over his head and apply a choke hold on him. That would teach the heel to mess with a Shark!