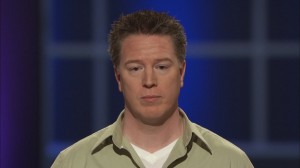 Roger Sullivan has been an entrepreneur for quite some time. The Washington state entrepreneur was recently featured on Shark Tank where he pitched the Sharks on Wired Waffles, his family's caffeine infused, ready to eat waffle product. Things got very heated in the Shark Tank for Roger Sullivan. He made some tactical mistakes and he was unfairly portrayed as a business man who unethically pushes energy products on kids. Roger didn't get a deal, but he and Wired Waffles are moving on to life beyond the Shark Tank. We spoke last week as he attempted to clear the air.
Roger Sullivan Lifetime Entrepreneur
Roger Sullivan first got the bug for entrepreneurship when he became an Amway distributor as a young man. "Amway definitely got me dreaming at a young age, it was my first foray into entrepreneurship and it showed me the potential of working for yourself." He spent a significant amount of his adult life working for an online computer retailer, first in the inside sales group and then as an outside sales rep in business and corporate sales.
The entrepreneurial bug left its mark however as Roger and his wife opened an espresso shop in Bothel, Washington. "We're in the coffee capital, so it made sense," he said. After running the business for two years, the owner of the property where they leased their store got a bit greedy and didn't renew their lease. "They tried to operate it themselves and it ended up costing them $200K. I was heartbroken when we were forced out because it was our first brick and mortar business, but I felt like we got justice when [the property owners] had to close."
"We spent some time licking our wounds, then my wife went to work for a friend managing his espresso stands, which she still does to this day. In 2008 we started a business delivering supplies to espresso shops in our area. We focused on coffee shops and managed inventory for large operators. That went well until the economic downturn in 2008 when more and more shop owners started doing their own stocking and inventory management. We closed that business, perhaps a little too late, but it taught me not to get emotionally involved."
Roger Sullivan's "AHA Moment" Wired Waffles is Born
Roger Sullivan is always on the lookout for new opportunities and, with his wife still managing espresso stands, he started noticing the lack of variety in breakfast items in many coffee shops. "Most places give you the standard muffin or bagel. I thought we could do more. We were looking at pancake machines when we saw a special on TV featuring a ski-up waffle shop in Vermont. We started playing with recipes and decided we could do it. People like them."
Roger and his wife had settled on making a go of the waffle business. They were just about to go into production when they saw another feature on a bakery putting pharmaceutical grade caffeine into brownies. They thought caffeinated waffles would be unique, so they ordered a kilo of pharmaceutical grade caffeine.  "It was a big bag of white powder, it was funny. I felt like a drug lord!"
There was a period of experimentation with dosages of the pharmaceutical caffeine and Roger Sullivan looked at energy drinks as a model for dosage. "It was a lot of trial and error, they don't really tell you how much caffeine is in energy drinks. We finally settled on 200 mg of caffeine per waffle for 'waffle 1.0,' but they had a  strong aftertaste. We developed 'waffle 2.0' with all natural caffeine and vitamins." Waffle 2.0 tasted much better and they began selling them in October of 2011. They got a 10,000 unit order for a corporate catering account and Wired Waffles were on the Microsoft campus in their corporate cafeterias.
Once their first round of production was sold out, the Sullivans knew they had proof of concept. As a publicity stunt, Wired Waffles became self proclaimed sponsors of a local University's finals week. "The students loved them."
Roger Sullivan on production setbacks, Waffle 3.0, and Shark Tank
"We began wholesaling to area coffee shops, and everything was going well, but we had an issue with our manufacturer. We were selling a gluten-free product, but we found they weren't really making them gluten-free." Roger stopped selling and went searching for a new company to produce Wired Waffles. They made a few changes to the recipe too, adding a natural enzyme to enhance moisture and making the recipe more wholesome with buttermilk and 'real' sugar. By June of 2012, Wired Waffles 3.0 was ready to go!
It was around this time that Roger Sullivan's sister-in-law began encouraging him to apply for Shark Tank. "I had never heard of the show," he said, "but I looked it up online, clicked the shiny button, and sent an email in. When I  got a call from a producer, I had been studying old shows and pitches and had my 'elevator speech' ready to go. By June, I knew we would be taping. This was right around the time we were launching Wired Waffles 3.0."
"I had never seen the show, but during my 'studies,'  we watched every episode as 'family homework.' I fell in love with Barbara Corcoran. I just love her story and I bought her book."
Roger Sullivan on Dry Waffles, Character Issues, and Editing
The edit can always be a double-edged sword for entrepreneurs in the Shark Tank; Roger Sullivan experienced that firsthand. Most entrepreneurs tape with the Sharks for about an hour and all that interplay, which is spontaneous, needs to be cut into a 5-10 minute segment. Much gets left out, to either the benefit or the detriment of the entrepreneur. In Roger Sullivan and Wired Waffles' case, the edit did some harm.
"Before we headed down the hall to enter the Shark Tank, the producers had me unwrap and prepare the waffles. They didn't want plastic crinkling while I unwrapped and handed out the product. The waffles were left out in a basket for 20 minutes under the studio lights before I even gave them to the sharks, then they all said they were dry! Future food entrepreneurs should learn from that: make sure you give a fresh product to the Sharks!"
While Roger Sullivan is disappointed by the Sharks' reaction to his product, he's OK with it because he can explain that. What really bothered him was the insinuations against his character that were portrayed in the edit. "After Lori made the remark about kids getting their hands on the product, they made me out to be this guy who is pushing caffeine on kids. I said my kids eat the waffles and they made me look bad. What wasn't said is my kids are 22, 20, 18, and 16 years old. We think energy drinks and our products are for adults and we advocate that. What about the retailer who sells a Red Bull to a 12-year-old? It's legal, but it's unethical. We don't advocate that. The whole exchange did have some tangible negative results; I'd say it was about 50-50 positive negative."
"Mark Cuban was an advocate for my position throughout the pitch. He was pretty cool. There was a lot of arguing during my pitch around the ethics issue; much more than was shown on TV. At one point, all the sharks were arguing and talking at once; I looked over at the producer and he just shrugged. He told me later he had never seen them like that."
Roger Sullivan on Life after the Shark Tank
"We saw a spike in web traffic on show night. Our hosting company let us down. Our website crashed twice during the east coast broadcast and twice during the west coast broadcast – at the exact same moment in the pitch! Our web guy was freaking out. We sold some waffles but I had higher expectations, we had a lot of 'looky loos.' "
Appearing on Shark Tank did get Roger some meetings with big food brokers. "We sent the new Wired Waffles 3.0 to brokers the day before the show aired and we're setting up meetings. Only one broker backed out of a meeting as a result of the broadcast. We did take on a small investor for 5% of the company, mostly to get our stock ready for Amazon and for the show."  At this stage Roger Sullivan and his wife are cautiously optimistic and appear to be 4-6 months away from being profitable.
"Initially I thought I would not do this again, but in the big picture I think being on the Shark Tank adds credibility to the business. Overall, it was a positive experience and I would do it again." Roger  Sullivan had parting words for other entrepreneurs:  "Don't give up. A lot of people sell themselves short. Don't do that. Don't give up."
I had one more question for Roger, but that answer is on the Hot Dog Truck.