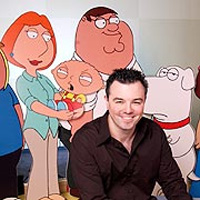 Fly trap entrepreneur Bruce Gaither will try to net the Sharks Friday in episode 410 as Family Guy creator and host of "The 85th Annual Academy Awards," Seth MacFarlane assists his friend with his pitch. MacFarlane is the latest celebrity pitchman in the Shark Tank for season four. This episode marks the Shark Tank's move to the 9 PM time slot. All entrepreneurs who have had celebrity assistance to date have been funded by the Sharks, will the mystery fly trap entrepreneur be the next?
Fly Trap Hype doesn't net Search Results
ABC has been hyping Seth MacFarlane's appearance on Shark Tank for over a month now. They state on their episode 410 press release that MacFarlane "comes to the Tank to support his friend and horseback riding teacher from Sylmar, CA, who claims he has built a better fly trap." The invention, called No Fly Cone, is the brainchild of Bruce Gaither, an LA area horseback riding and polo instructor. Finding Gaither was no easy task as the ABC hype machine focused on MacFarlane. The No Fly Cone website is down [*****UPDATE: IT IS BACK UP***] and the Facebook page is sparsely populated. Curiously, Gaither's personal Facebook Page claims he worked at No Fly Cone.
What is No Fly Cone?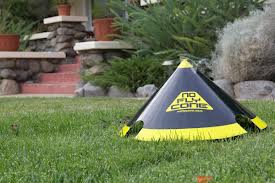 The No Fly Cone is a unique twist on a glue based fly trap. We've all seen those glue strips that catch flies, leaving an unsightly strip of fly carcasses hanging in mid-air for all to see. There are a lot of chemical based fly traps that kill flies with toxins and chemicals, but a high volume, good old-fashioned glue fly trap does the trick without any nasty toxins. Gaither commented that he invented the No Fly Cone because "my pregnant wife needed a fly trap that was non-toxic." No Fly Cone takes the traditional glue fly trap and pretties it up a bit. Its conical shape keeps the fly carnage out of sight.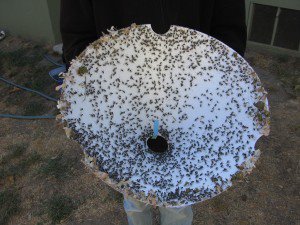 Fly traps have been around since the 19th century and there are literally thousands on the market, what makes No Fly Cone "better" is the design. It's a new twist on an old solution, which is the type of thing that makes millionaires, provided it's a viable solution and improvement. The old saying "build a better mousetrap and the world will beat a path to your door" is a testimony the ingenuity of inventors  improving upon common solutions to common problems. Is Bruce Gaither the inventor of a better fly trap? He thinks so, and so does his buddy Seth MacFarlane. Whether the pitch stays on point or ventures into the comical remains to be seen
Do Sharks get caught in No Fly Cone?
The Sharks like innovative products and they are no stranger to investing in bug related products. In the season four premier, BuggyBeds did a deal with all five sharks, without any celebrity help. If No Fly Cone has the patent protection, the sky could be the limit. This is a low price point product with universal appeal; it would literally fly off the shelves in home improvement and other big box retailers. Assuming the numbers are right, I think one or more of the Sharks would be interested.
Having Seth MacFarlane in on the pitch makes it more likely to be funded. Every other celebrity endorsed product this season has left the Shark Tank with a deal. I don't think the ABC/Sony/Mark Burnett hype machine would put such a high-profile celebrity on with a product that doesn't get a deal. Another curious thing is the No Fly Cone website was down (as of 10/31/12) two days before the show, it is back up now. I am not sure what to think of that. It looks like they were re-tooling (it's a pretty slick looking website) or maybe there is a complete corporate restructuring going on.
Whatever happens, this is sure to be a funny episode. MacFarlane is a cut up and it will be interesting to see his interactions with the Sharks. With the advent of sweeps month and the new 9 PM time slot, not to mention some fireworks (and a possible partnership) between Lori and Daymond over Plate Topper, episode 410 promises to be funny, furious, and memorable. The question is, will a fly trap catch a shark?
Catch this preview clip where MacFarlane, as the voice of Stewie, the prodigal infant on Family Guy, pokes a little fun at Mark Cuban.