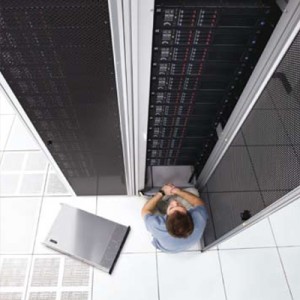 This post brought to you by CDW. All opinions are 100% mine.
CDW started as a small business back in 1984 selling computer hardware and networking gear. The company has grown quite a bit through the years and is now a global corporate giant with sales of well over $9 Billion per year. CDW grew with technological advances in the computer industry and is now a top-tier re-seller of IBM, Cisco, and Microsoft products and services. They sell and service desktops, servers, laptops, peripherals, software, telephony products, power, and storage to governments, hospitals, Universities, and businesses of all sizes. When it comes to managing data for business, CDW has a solution.
IT Professionals, the Company Computer Guys
Many small businesses don't need Data Storage Management and Virtualization. Someone like Shark Tank entrepreneur Cheryl Rigdon (the Spatty), who is basically a one woman business, doesn't manage a lot of data. A simple PC with data back-up through an external hard drive or some sort of cloud based service would be just fine. A business like BuggyBeds or Marz Sprays doing tens of millions of dollars in sales on a global level has LOADS of data to manage across multiple platforms. A business of this size and complexity has data storage and most likely employs at least on full-time IT pro. Most companies of a certain size have at least one IT professional; larger companies employ an entire team. They're commonly known as "the computer guys" and they are characterized by an often harried look. They are usually one of the most important people in the company because in most businesses, if the computers go down, the business stops.
IT pros are more than glitch fixers when there are network issues in a business. They actively manage a company network, striving for the most efficient, cost-effective data storage solutions. Different businesses have different types of data to store. A hospital has tens of thousands of medical records, a law firm has reams of electronic legal documents, an engineering firm has drawings and studies and everybody has email;  the list is virtually endless, but the solution remains the same for all. CDW aims to be the solution for businesses with data storage needs. They work with the IT guys to make data management more efficient and less expensive.
Back in the 1990's, when I was selling T-1's and DS3's to businesses, data storage was a space consuming behemoth. Lots of real estate was needed to store rack servers and all the other hardware to run a computer network and data storage networks. Like a lot of other things in the computer industry, servers have grown smaller and more powerful. Not as much real estate is needed, but functionality is more important than ever and CDW has all the gear. Businesses with data storage needs have to look at new solutions that can save money while increasing efficiency. Data needs to be stored in a safe and secure environment. Modern solutions need to be flexible and simple.
What is  Data Storage Management and Virtualization?
Simply put, Data Storage Management and Virtualization for Business handles a company's data. Storage needs are huge and multiply exponentially with a company's growth. Everything from mission critical data to email needs to be saved and stored. CDW handles every aspect of the process. A typical Data Storage and Virtualization Network consists of the following:
Storage Area Networks: Interconnected devices to house data to increase server and application performance.
Blade Servers: Provides traditional server's processing power.
Storage Management Software:  Allows you to manage your data and data storage systems and reduce system complexity  through automation.
Archiving Software: For automating data movement throughout its life cycle.
E-Discovery Software:  Allows you to flag specific files  through sophisticated search features
Data Deduplication: Uses far less physical storage space by backing up files once and once only instead of numerous times (which wastes money and network real estate).
Data Storage Virtualization: Combines multiple data storage systems and makes them appear and function as one. This reduces the amount of time your IT guys will spend tweaking things.
Storing and managing data is an important function of any business, but why would a business embrace a Data Storage Management and Virtualization solution? The answer, as Mr. Wonderful would say, is "MONEY!" Any business has tons of data moving through it each day. Email alone is a huge consumer of data storage. Add contracts, photographs, email attachments, and the list goes on. All this data needs to be kept somewhere for future reference. That's where CDW and their Data Storage Management and Virtualization for Business solutions come in.
Learn More About CDW Data Storage Management and Virtualization
For most business owners, managing servers and storage devices is a bunch of mumbo jumbo. That's why they hire the computer guys! But it is still important to be reasonably well versed on the subject. That's why CDW is offering a free White Paper to help you understand how to Reduce Your IT Data Storage Requirements by 20-40%. In the report, you'll learn how to gain faster access to your critical data, protect that data, provide better support for your employees, and make your infrastructure more efficient. It can help you understand what CDW's data storage management and virtualization solutions can do to increase efficiencies and reduce storage costs.