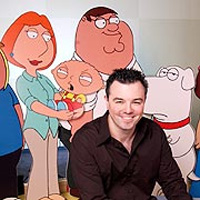 A sweeps month time change is coming to the Shark Tank. No sharks are leaving and the show's format won't change, but ABC has decided to move the popular venture capital "game show" to the 9 PM hour. The move coincides with November sweeps, one of two months where TV networks put out their best programming to set ad rates for the following six months.
Sweeps month time change for Shark Tank to anchor new shows
Sweeps month is also a time to get viewers interested in new programming. With the Shark Tank sweeps month time change, ABC hopes Shark Tank fans will tune in early (like they are used to doing now) to catch two new sitcoms:  Last Man Standing and Reba McEntire's Malibu Country. I am not a big fan of network TV sitcoms, so I will be "out" on the eight o'clock slot and will wait until nine to tune in the Shark Tank. The sweeps month time change may or may not be permanent – we'll see how the sitcoms fare in the eight o'clock slot (and how Shark Tank does at 9PM) before ABC makes a final decision. For the time being, it will give viewers more time to get the little ones to bed and get primed for the Shark Tank Drinking Game.
Family Guy creator lead in for sweeps month time change
There's nothing like popular celebrities to bump up the ratings and celebrities have played a big role in pitches to the Sharks this season. To date in season four, we have seen Robin Leach, Jonathan Roberts & Anna Trebunskaya, and Brandon Jacobs. Episode 410, which will air on November 2, 2012, will feature none other than Seth MacFarlane! The creator of Family Guy, The Cleveland Show, and American Dad is a busy guy. In addition to kicking off sweeps month on Shark Tank, Seth MacFarlane recently hosted Saturday Night Live and he'll be the emcee at this year's Oscars.
ABC is being characteristically tight-lipped about what business Seth MacFarlane will be representing in the Shark Tank. They want to build some suspense going into sweeps month. What they have said is MacFarlane will be representing "a California man who claims to have built a better fly trap." There's an old saying entrepreneurs have repeated for years: "build a better mouse trap and the world will beat a path to your door." I guess if you build a better fly trap, the only one who makes it to the door is Seth MacFarlane!
Seth MacFarlane to match wits with Sharks?
MacFarlane will surely bring a little levity into the Shark Tank during his appearance at the very least. I wonder how the Sharks will react to such an Alpha comic personality? It's a well-known fact that good comedians will absolutely destroy a heckler. It will be interesting to see how he handles himself with the Sharks if they get a bit feisty with him. I would love to see Mr. Wonderful or Marc Cuban square off against Seth MacFarlane in a battle of wits and witticisms. As for the "better fly trap," we'll have a preview on that business the week after next, which will be the final time we'll see Shark Tan at 8 PM on Fridays.
I am looking forward to the show being on at 9 PM, what do you think of the sweeps month time change?