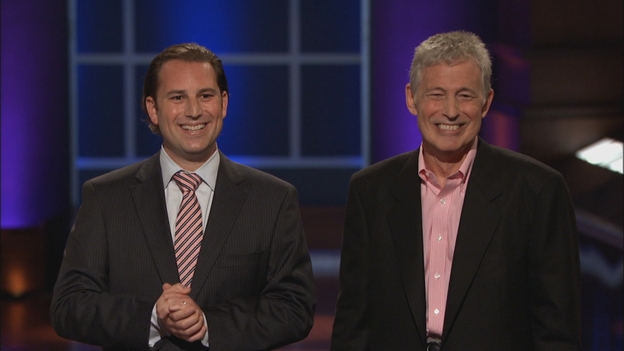 Vitamin oral spray pioneer Brandon Marz got a bit hot under the collar when he appeared in  Shark Tank episode 405 with his father, Keith. The father/son business partners successfully pitched the Sharks with their revolutionary vitamin oral sprays: Marz Sprays. The entrepreneurs walked away with a deal from Lori Greiner for $200K for 25% of the company with a redemption option to buy back half her shares in the business for our times her investment. I caught up with Brandon on the phone and got him to elaborate on Marz Sprays successful Shark Tank pitch.
We spoke fairly early in the morning, for Brandon anyway: about 8 AM west coast time. He seemed wide awake and ready to go. "I have a 20 month old," joked Marz, "I'm used to no sleep."  I asked him about his Shark Tank experience, both before and after taping.
Marz Sprays on the Road to Shark Tank
"We sent the initial email, then the written application, then we were asked to send a video. We taped in mid July," explained Brandon, "it was difficult because we really wanted to talk about it but we couldn't. We didn't sit around and wait for the show to air, we moved forward with the business, but it was an awkward situation. During the lag time, we were meeting with big box retailers and working on stuff that was in place. Lori is pretty involved, we talk directly to her and we're putting together a product set for QVC." Marz Sprays took the "traditional route" to the Shark Tank. "We sent the initial email, then the written application, then we were asked to send a video
Web traffic is always an issue when a business appears on Shark Tank, and Marz Sprays was no exception. "We took steps to handle [the increased traffic] by building redundancy with our servers. We were getting thousands of times our usual volume, there was a non-stop flow of orders all weekend."  All this traffic, coupled with and caused by the appearance on Shark Tank, has led to "lots of opportunities" for Marz Sprays. The company has been approached by many distributors and stores in the week following their deal with Lori Greiner. Brandon said Marz Sprays is "in negotiations with national grocery and drugstores, and you will see us in select Rite Aid stores beginning in November." He added that most of the negotiations with major retailers should come to fruition in the first and second quarters of 2013. "We're hoping for ubiquity nationwide."
Vitamin Oral Sprays go Global
Brandon said Marz Sprays has a great distribution model. "We sell direct to consumers online, through retailers and distributors, through TV commercials and very soon, we'll be international. We are even exploring private label opportunities in both the US and abroad."
Vitamin supplements are regulated differently in every country. Since Marz vitamin oral sprays are considered supplements, dealing with regulations becomes an important part of their business strategy. The international aspect of the business is what scared off Daymond John, but he probably was unaware of Marz Sprays' forays into the international market. "We have all our products trademarked in the US, and we're about 3/4 of the way with the European Union. The 'European versions' of the FDA have different guidelines for supplement products than the US and there are differences for each country. We are working toward assuring our vitamin oral spray formulas are compliant in each European Union country."
It got heated in the Shark Tank
Brandon Marz was heated up in the Shark Tank, so much so, he was sweating bullets. He admitted he's taken some ribbing from friends and colleagues, but Brandon had an explanation. "It was about a hundred degrees in LA that day and our segment was taped at the end of the day. The studio lights were hot and there were some hot tempers. Mark Cuban had a lot of pre-conceived notions about the supplement industry, he just couldn't believe a big pharmaceutical company hadn't come up with vitamin oral sprays, but we did! We work with doctors, chemists and formulators to get our product right. Overall our segment was a fair representation. They left out a lot about our business strategy. It was definitely a heated battle, it was NOT all smiles."
"We are in multiple market verticals: weight loss, a $50 billion market; Energy 'shots,' a $10 billion market; vitamins, a $10 billion market; sleep aid supplements, a $10 billion market. We went in thinking our story is compelling." Mark Cuban didn't think vitamin oral spray was compelling, but Lori Greiner and Kevin O'Leary did. "We are appreciative of Mr. Wonderful's recognition, but we liked Lori's brand perspective. She resonates with the audience and really appeals to our target demographic. We like what she brought to the table." Brandon should send Mr. Wonderful a thank you card, he drove the bid down on Marz Sprays, forcing Lori to match his offer of $200K for 25% of the budding vitamin oral spray giant.
History of the Vitamin Oral Spray industry
Marz Sprays practically invented vitamin oral sprays. A lot was said about statistics related to people who don't want to or can't take pills. Regardless of the stats, Brandon says their delivery mechanism  is simply the next stage in supplements. "My dad was working with weight loss supplements for years. He had a great idea and a great formula, but bad packaging." Brandon, a 36-year-old former financial services professional, was "ready for the next stage" of his life when father Keith brought him on board. "We were first to market with the oral delivery system for supplements. Vitamin oral sprays are more efficient than pills and powders, the product is absorbed much quicker. When you think of the energy shot industry, it's basically supplements in liquid form. That industry didn't exist five years ago. We're just a natural evolution."
Marz Sprays, while expanding rapidly, is still a family business. Brandon and his dad Keith are full time. Brother Brett, who owns a promotional and product sourcing company helps out from time to time. Brandon's wife is involved in the business too. Even Brandon's 20 month old son gets involved. "We use him for collections," he joked.
Brandon is a big Shark Tank fan. "It's basically my Friday night activity. I enjoy being an armchair quarterback." For now, he's content to helping Marz Sprays create the vitamin oral spray market and to growing the business. "We have so many things hitting at once, I have ten meetings with major retailers and distributors coming up. Shark Tank has really opened a lot of doors."
I had one more question for Brandon, but for that answer, you'll have to head over to the Hot Dog Truck.