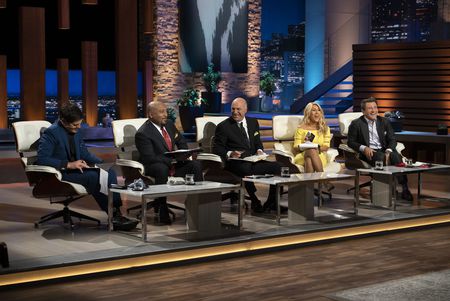 Mark, Daymond, Kevin, Lori and Robert are on the panel for Shark Tank episode 1020. They'll evaluate four new businesses seeking investments to grow their businesses. Jason Woods returns to the Tank after a five year hiatus. He pitched his Kymera Electric Body Boards back in season five and was eviscerated by the Sharks in what Mark Cuban called "the worst pitch ever." He hopes for a better outcome tonight. Jason Hadley feeds the Sharks his Bang Shack chicken, vegetarian and vegan dip that he sells at a Hollywood, Florida farmer's market. Cedric Cobb seeks an investor for Best Wardrobe Solutions, a "fashion technology company" that teaches men how to dress well and sells them the accessories to do it. Anna Skaya introduces the Sharks to BasePaws, her cat DNA testing service and international cat genetics database. Which business gets an investment?
Instead of an update tonight, we'll see footage of Alli Webb, Mark Cuban, Daymond John, and Kevin O'Leary's visit to Olympic Heights High School in Boca Raton, Florida. Student Madison Borman won the Shark Tank High School Sweepstakes back in October, 2018. As the winner, she gets a trip to LA for her and her family to watch a taping of the show. She also got the four Sharks to address an assembly at her school. Alli Webb, who attended Olympic Heights High School, and the other Sharks fielded questions from students for about an hour. O'Leary said it was the largest group of students he ever addressed. Tonight, we'll see a synopsis of this visit.
The Sharks
---
Daymond John
Robert Herjavec
Entrepreneurs
---
Update Segment – High school students Visit with Sharks
There are 28 Shark Tank Episodes for Season 10. This season features more appearances by "guest Sharks," including billionaire Jamie Siminoff. The 200th episode also airs this season. Casting is currently closed, but it never hurts to get a head start on season ten! If you would like to appear on the show, check out our Auditions and Casting information.
Episode 1020 – The Shark Investors and Entrepreneurs
The Shark Tank Episode 1020 entrepreneurs will make their best pitch to the panel of five Shark investors who will use their own money if they choose to invest. The Shark Investors negotiate on the spot without any previous information, which differs from typical negotiations between venture capital investors and entrepreneurial start-ups.
Companies pitching the Shark Investors must go through a rigorous due diligence process before an on-air deal is completed. Shark Tank Blog follow ups help you keep track of the companies that end up successful and the ones that don't complete their deal.
Thank you for reading SharkTankBlog, the number one site for Entrepreneurs, Investors and Fans. Our content updates multiple times day, giving you the latest information on Episode 1020, Season 10, and all other seasons and episodes.
Episode 1020 Press Release
Shark Tank: Episode 1020 (4/28)
AN ALL-NEW EPISODE OF ABC'S 'SHARK TANK' DEBUTS SUNDAY, APRIL 28
"Episode 1020" – First into the Tank is an entrepreneur from Redondo Beach, California, who pitches her high-tech product to discover hidden secrets about your cat. An entrepreneur from St. Louis, Missouri, presents his men's fashion accessory that will help every man look extra refined, and a former "Shark Tank" entrepreneur from Pleasantville, California, who was shredded by the Sharks during his first visit, returns to the Tank for his shot at redemption with his line of all-electric water sports equipment. Last into the Tank is an entrepreneur from Miami Gardens, Florida, who introduces his delicious, multipurpose dip on "Shark Tank," SUNDAY, APRIL 28 (10:01-11:00 p.m. EDT), on The ABC Television Network, streaming and on demand.
In a "Shark Tank" update, to inspire high school students across the country to become entrepreneurs, four high school students from Boca Raton, Florida, won the opportunity to chat with their favorite Shark, and one lucky student won a grand prize to visit the Sharks on set during a taping.
The Sharks in this episode are Mark Cuban, Kevin O'Leary, Lori Greiner, Robert Herjavec and Daymond John.