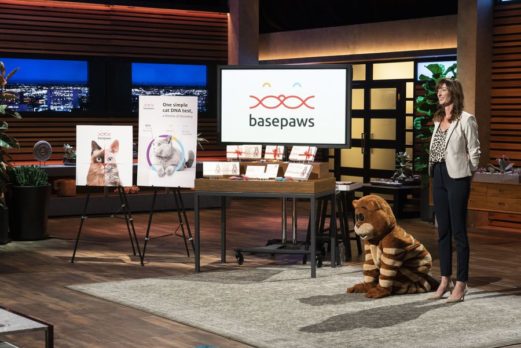 Anna Skaya wants the Sharks to invest in BasePaws, her cat DNA testing service, in Shark Tank episode 1020. Skaya is a serial entrepreneur who worked at four start-up companies before launching BasePaws in 2016. The idea for cat DNA testing is to help cat owners determine genetic traits that impact their health. The company mission is "to make the world better for cats (and their humans)."
For $95, a cat owner gets a complete genetic report that gives owners information about their cat's breed(s) and genetic health risks for disease. The bigger picture for the company is to compile a world-wide database of all tested cats that identifies specific traits your cat may develop. The database will also match your cat with similar cats and provide suggestions for health and wellness based on your cat's genetic make-up. These updates are a lifetime benefit of getting DNA tested with BasePaws.
Collecting a sample is as simple and painless as it can be. Simply order your "Cat Kit" and follow the enclosed instructions. You take a swab of your cat's fur, slip it into the return envelope and send it to the BasePaws lab in Los Angeles. They use the DNA information from kitty's hair follicle to get their sample. Once the test is completed, you receive a full report and updates as the database grows. Skaya likely wants a Shark's help scaling the business. Will a Shark want to get with these cats?
Basepaws Company Information
Video

Posts about Basepaws on Shark Tank Blog
Basepaws Shark Tank Recap
Anna will pitch the panel of five Sharks on the business and its prospects for growth. She'll need to convince Mark Cuban, Kevin O'Leary, Lori Greiner, Robert Herjavec and Daymond John that the company is worthy of a Shark investment. A good business plan, good financials, and sales data will impress the Sharks, but she'll need to show them SHE is capable of running the company to "Shark standards." A full pitch re-cap on Basepaws will be available on Shark Tank Blog once this episode airs.
Basepaws Shark Tank Update
The Shark Tank Blog constantly provides updates and follow-ups about entrepreneurs who have appeared on the Shark Tank TV show. Once an episode has aired, we monitor the progress of the businesses featured, whether they receive funding or not and report on their progress. The Shark Tank Blog will follow-up on Basepaws & Anna Skaya more details become available.