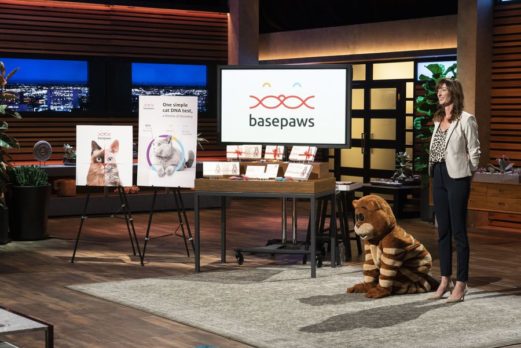 Anna Skaya wants the Sharks to invest in BasePaws, her cat DNA testing service, in Shark Tank episode 1020. Skaya is a serial entrepreneur who worked at four start-up companies before launching Base Paws in 2016. The idea for cat DNA testing is to help cat owners determine genetic traits that impact their health. The company mission is "to make the world better for cats (and their humans)."
For $95, a cat owner gets a complete genetic report that gives owners information about their cat's breed(s) and genetic health risks for disease. The bigger picture for the company is to compile a world-wide database of all tested cats that identifies specific traits your cat may develop. The database will also match your cat with similar cats and provide suggestions for health and wellness based on your cat's genetic make-up. These updates are a lifetime benefit of getting DNA tested with BasePaws.
Collecting a sample is as simple and painless as it can be. Simply order your "Cat Kit" and follow the enclosed instructions. You take a swab of your cat's fur, slip it into the return envelope and send it to the BasePaws lab in Los Angeles. They use the DNA information from kitty's hair follicle to get their sample. Once the test is completed, you receive a full report and updates as the database grows. Skaya likely wants a Shark's help scaling the business. Will a Shark want to get with these cats?
Basepaws Company Information
Video

Posts about Basepaws on Shark Tank Blog
Basepaws Shark Tank Recap
Anna enters seeking $250,000 for 5% of Base Paws. She tells the story about how she got started and feels, because she was first to market with cat DNA tests, the "sky is the limit" for her business. She actually performs all the DNA tests in her LA lab space. In just 10 months, they've sold 2500 kits and made a little over $200,000. She's projecting $400,000 in sales for her first year.
To get the business started, Anna used $350,000 of her own funds and a $3 million note. She used the funds to invest in technology, R&D and IP. Each kit costs $25 and sells for $95. Kevin likes what he hears and offers $250,000 for 8.3%  and 1.7% in advisory shares. This causes the other Sharks to back away as it's an uncharacteristically fair offer from Mr. Wonderful. The other Sharks express concerns about scaling too.
Robert likes the idea though and he makes the same offer as Kevin. Anna says she wants to keep her Shark Tank investment consistent with her other investors. After some discussion, Robert and Kevin team up to offer $125,000 each for 5% each and Anna accepts.
Basepaws Shark Tank Update
The Shark Tank Blog constantly provides updates and follow-ups about entrepreneurs who have appeared on the Shark Tank TV show. Base Paws closed their deal with Kevin and Robert. As of August, 2019, just a few months after the original air date, Base Paws is going strong. They saw a huge boost in sales after airing and they now sell on Amazon too. It looks as if Anna's big plans are paying off.
In early 2020, the company began making Covid-19 test kits for cats. The business gets an update segment in season 12, episode 1210. In that segment, they reveal the business has grown tenfold. They upgraded their DNA test to include both breed and genetic health markers and recently launched their second product, the Cat Dental Health test.
The company was acquired in June, 2022, by Zoetis, a leading animal health company, for an undisclosed amount. There is an update segment in episode 1406. In the update segment, we learn that Basepaws was acquired for over $50 million. They are also introducing test kits for dogs. As part of the deal with Zoetis, Anna will stay on to run the Basepaws business.