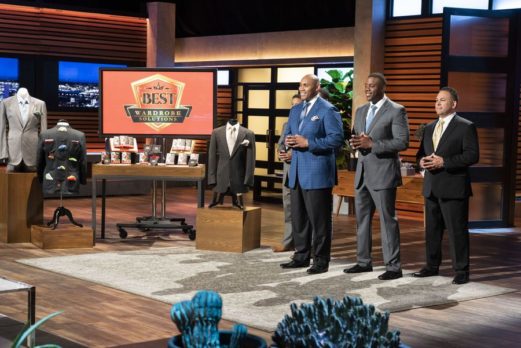 Cedric Cobb pitches Best Wardrobe Solutions, his "fashion technology company," in Shark Tank episode 1020. Best Wardrobe Solutions sells fashion accessories in the form of ties, pocket squares, collar stays, belts, shoes and more. He puts everything together for guys on his one of a kind app that lets men see how to properly tie a pocket square or round – that's the little kerchief that goes in a suit pocket.
There are dozens of "how to" videos in the Best Wardrobe Solutions app. The idea behind the app is to get men to buy the products mentioned above. Cobb sells his accessories online and at dozens of independent men's shops nationwide. Their top-selling product, the Best Pocket Square Holder, is a patented item that keeps the breast pocket kerchief in place and looking good. They sell for $19.99 on Amazon and come in a variety of colors and patterns that match their ties.
Cobb has a lot of success in the men's fashion world, but he doesn't have his products in any big chain retailers. While his network of independent men's shops is impressive, he needs more exposure to take the company to the next level. The app sets Cobb's business apart from other fashion accessory companies, but exposure in mass markets will make this company go big. Will a Shark want to dress up this business and invest?
Best Wardrobe Solutions Company Information
Video

Posts about Best Wardrobe Solutions on Shark Tank Blog
Best Pocket Square Holder by Best Wardrobe Solutions
Best Wardrobe Solutions Shark Tank Recap
Cedric enters seeking $200,000 for 15% of his business. He demonstrates how his signature pocket square holder works and hands out samples. The Sharks all seem to like the product, but several think it's "too niche."
Despite objections, Kevin offers $200,000 in a straight royalty deal. He wants $1.50 per unit as a royalty and wants to take manufacturing overseas. Daymond jumps in and offers $200,000 for a royalty of $1.00 per unit and he'll keep the manufacturing in the USA. Cedric takes Daymond's deal.
Best Wardrobe Solutions Shark Tank Update
The Shark Tank Blog constantly provides updates and follow-ups about entrepreneurs who have appeared on the Shark Tank TV show. As of August, 2019, there is no evidence this deal closed. Cobb has NFL legend Ray Lewis as a spokesperson and he's added fraternity pocket squares to his catalogue. He's also selling bow ties, shoes, socks, lapels and he has a groomsmen shop. Sales are made on his website and Amazon. As of November, 2022, the company is still in business and generates $3 million in annual revenue.