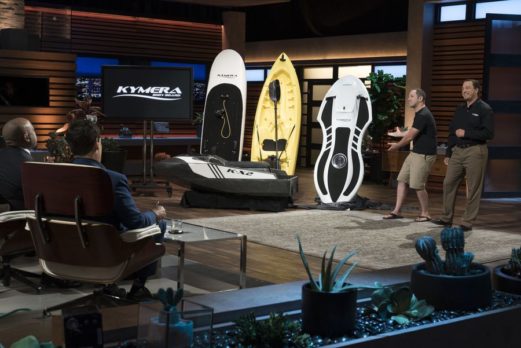 Jason Woods pitches his ultra-cool personal watercraft called the Kymera Body Board in Shark Tank episode 501 on November 1, 2013. Woods is the latest Kickstarter entrepreneur to appear on the show but, unlike other Kickstarters in the Tank, the Kymera Body Board campaign did NOT achieve its lofty goal of $250,000. Woods raised about $165,000 and failed to cash in his Kickstarter chips.
He's been developing the Kymera Body Board for nearly ten years. It's an electric-powered surf board-looking device that is a lightweight and (relatively) inexpensive personal watercraft. Compared to jet-skis that cost upwards of $20K, the $3,500 Kymera Body Board is a bargain. It's light enough to carry like a surf board and the batteries can charge with an optional solar charger – a good accessory if you're out at the lake or beach all day.
The boards are for sale on the Kymera website on a "pre-order" basis prior to the original air date. Woods most likely wants some Shark help to get production rolling and spread awareness for the product.
Kymera gets a second shot in the Tank in episode 1020. Since getting eviscerated, Jason's rolled out a network of rental partners and sells Kymeras in seven retail shops. He's hoping the Sharks treat him kinder this time around. The second time around went much better for Jason.
Posts About Kymera Body Board on Shark Tank Blog
Kymera Body Boards – Second Chance
Kymera Body Board Information
Video:
Kymera Body Board Shark Tank Recap – Episode 501
Jason enters and asks for $250K for 20% of his business. He then tells the Kymera story and has his fiancé demo the board. Then he rolls a video of the Kymera in action.
Lori thinks the riding position looks awkward. The battery only lasts 30-60 minutes, which Kevin balks at. Mark then asks for sales figures. Jason talks about the 10 year evolution from a gas board to a battery board, and Mark chides him for not answering the question. Lori then asks if the boards he brought are prototypes and Jason reveals he doesn't have any product for sale yet. Jason then talks about raising $165K on Kickstarter; unfortunately the goal was $250K. Jason blames the failure on Kickstarter changing the rules about multiple sales.
Jason reveals he's sunk $130K into Kymera over 10 years. The Sharks think he should have sold some products over that time period. Jason wants to go direct to consumer online. Mark then calls him a "wantrepreneur;" he thinks he could have sold some product over 10 years and goes out. Lori doesn't think he's tested it enough and there's too much potential for liability; she's out too. Daymond then says this is the "worst pitch I've ever seen," and goes out. Kevin says a $1 million valuation is insane and he goes out. JP DeJoria thinks it's more of a hobby for Jason than a business and he goes out too. Jason leaves and says he's "totally pissed" and the Sharks just "couldn't see anything."
Episode 1020 Recap
In his second try, Jason asks for $250,000 for 5% of the business. The Sharks remember him and he doesn't hide from his first experience in the Tank. He tells the Sharks he's taken their advice and made drastic changes to his company. He now makes electric kayaks, and surfboards in addition to the bodyboards.
Jason finally went "all in" with his business – he quit his job and hired Adam Majewski (appearing onstage with him) to run operations. This time in the Tank, the product isn't a prototype, but a working model they are actively selling. Jason also adapted the powertrain for other watercraft.
Since his last appearance, Jason's invested over $600,000 into the business and he recently signed a contract with a large boat manufacturer. Sales, says Jason, are strong. He needs a Shark to help keep up with inventory. This time, the Sharks are biting.
Kevin offers $250,000 for 5% plus a $500 per board royalty until he gets $750,000 back. Daymond offers $250,000 for 10% and says he'll help with manufacturing and licensing. Robert thinks they need more money and offers $500,000 for 10%. Jason accepts!
Kymera Body Board Shark Tank Update
Before the show even aired, Kymera opened a new Kickstarter Campaign where they offered a new body board for $1995 from the first production run. As of show night, they'd sold 2. A week later, he's sold 6.
Since appearing, the Kymera Body Board is in limited production on a "pre-order" basis for August 2015 delivery. The price has increased to $2995. We'll see if Kymera delivers!
As of 2016, the boards are available for pre-order and now cost $3750. Kymera is also seeking rental operators. They don't sell the product direct to consumers on the website as of early 2019, but they do sell through seven retail marine shops and 36 international distributors. That could change as Jason is appearing in the Tank a SECOND TIME in episode 1020 – five years after his first appearance.
After the season ten appearance, it appears the deal with Robert did NOT close. The good news is, the boards are finally for sale on the website for $3995.00. They're also taking "reserve orders" for electric kayaks, surfboards and personal watercrafts. It looks like Jason really did learn his lesson!
As of November, 2021, there are 23 dealerships world wide. You can also order them direct from the company website. By July, 2022, he has 29 international distributors and he has a Wefunder campaign that starts on December 31, 2022. The WeFunder campaign start date was pushed back to February 28, 2023. At this time, the price for the boards has gone up to $4399. Lifetime revenues are $5 million and the company did $1 million in sales in 2021.