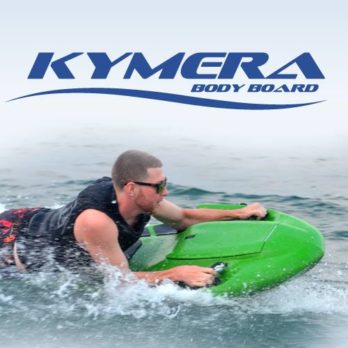 Jason Woods first pitched Kymera Body Boards back in season five, episode 501. To say it was an unsuccessful pitch is an understatement. He'd just come off an unsuccessful Kickstarter campaign he claimed failed because of Kickstarter's rules about selling multiple products for each donation. The Sharks didn't buy it. Daymond John eviscerated Jason and said it was the "worst pitch ever" on Shark Tank. To be fair to Jason, there were plenty of pitches that didn't go well in the following five seasons.
At the time, Jason touted Kymera as an evolutionary watercraft. The boards are electric body boards which you ride on your tummy as if paddling a surfboard. Back in season five, Jason was in the business for ten years and had invested $130,000 of his own money. The big problem he had then: NO SALES! No sales in ten years plus a bunch of excuses made the Sharks go out quickly and with extreme prejudice.
Five years later (now 15 years into the business), things are looking up for Jason and Kymera. He sells his boards in seven marine shops and he's building a board rental network. He's even supplied the boards to lifeguards in the Great Lakes. While he never got his "direct to consumer" business off the ground (you can't buy a Kymera board on his website), he sells them through a network of 36 international distributors.
It's rare a business gets a second chance in the Shark Tank. Only a handful have ever done it and fewer have done it successfully. Jason gets his second chance in episode 1020. The question is, this time will he have sales to back up his request for an investment?
My Take on Kymera
Back in season five, I called Kymera the "coolest new product to come to the Shark Tank." I loved it! It's a far less expensive alternative to a jet ski and it looks like a heck of a lot of fun. I was ready to buy one, but they weren't for sale for so long, I kind of forgot about them. Now that I live near the beach (I didn't in season five), I want one even more!
While I loved the product, I hated the pitch as much as the Sharks. Ten years in business without any sales is a LONG TIME. Jason didn't seem to know how to explain his plans for the future or his lack of sales. It was one heck of a train wreck pitch.
This time, Jason and his new partner Adam Majewski have at least a plan in place. There's no indication of how many (if any) boards they sold, so that could still be a problem. Let's hope this time he puts on a better presentation and gets an investment. I sure want one of those boards!
Will The Sharks Bite This Time?
As stated above, this time Jason has a plan. What we don't know is if there are sales. The Sharks will remember him and that's what they'll want to know first. If sales are weak or flat and if Jason offers more excuses, he's in for another rough ride. If sales are solid and growing, he has a better chance.
The biggest problem he'll face is the past. He's now fifteen years into the business. If he's sunk a ridiculous amount of money into the company and still offers excuses, he'll need a super-powered body board to escape the Sharks' wrath. If everything is good, there could be interest.
Robert wasn't present for the first pitch – John Paul DeJoria was in his chair that night, so it will be new to him. Robert likes outdoorsy products and if he sees an opportunity, he will bid. Robert will likely want a significant chunk of the company. Kevin though the valuation the first time out was ridiculous, so if he gets a fair valuation this time, he could be interested. I don't think Kymera is a product Lori can add value to, so I don't think she'll bid.
That leaves Daymond and Mark. Daymond didn't like the first pitch and Mark called him a "wantrepreneur." Mark likes entrepreneurs who keep plugging – IF they keep plugging and win. If Jason has a better valuation and some sales, Mark could be interested. Mark has interests in Slyde Handboards and Tower Paddle Boards, two beach related brands that he could leverage with Kymera. If – and only if – Jason knocks it out of the park, Mark could bid. Daymond could too. Bad business plan or not, it was a cool product then and it still is.