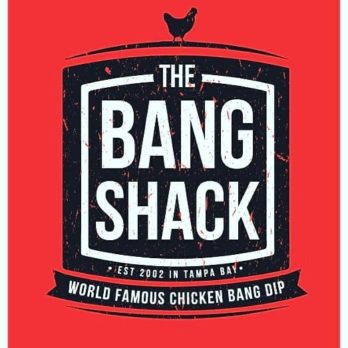 Jason Hadley feeds the Sharks his "World Famous" Bang Shack Chicken Dip when he tempts their taste buds in Shark Tank episode 1020. Hadley is the type of guy who WILL SUCCEED no matter what life throws at him. As one of five kids in a single parent family, Hadley learned to cook at a young age. While his mom worked two jobs, he fed his siblings. He also made extra money selling candy door to door when he was just ten years old.
Hadley didn't have a lot of advantages growing up in a poor part of St. Petersburg, Florida and life handed him a tough break when he became a father at the tender age of fifteen. Jason vowed he'd support his family and got to work. He had a flair for sales and found success selling cars, houses, mortgages and more. Hadley often brought his home made chicken dip to business gatherings and everybody loved it.
One day in 2016, he and his wife were at a farmer's market and she suggested he sell his chicken dip there. As of early 2017, the Bang Shack was open for business and he hasn't looked back. When he first started, he only sold chicken dip. In response to customer requests, he added vegetarian dip made from zucchini and vegan dip made from cashews to the Bang Shack repertoire.
Hadley wants to get beyond the farmer's market and get Bang Shack products into the Publix and Krogers of the world. He's hoping a Shark will join him on the journey.
My Take on Bang Shack
Hadley's story is inspiring, but any food product depends on taste. I have no doubt that the rave reviews about his dips are genuine, but since I never tasted the stuff, I can't honestly comment on its quality. For now, I'll take him at his word that it's good.
I like chicken dip as a rule. I have a friend who makes her own and always brings it to parties. It doesn't last long. There's room for a good, pre-packaged chicken dip in stores and if I ever saw the Bang Shack dips at Publix, I'd pick some up.
Will the Sharks want to Dip?
There was one other chicken dip in the Tank prior to this one. Back in season four, Back Nine Chicken Dip (also a Florida company) did a deal with Lori and Robert. After some initial success, they ran into a BIG PROBLEM with their co-packer who was a bit sloppy with production. As a result, he USDA recalled over 12,000 pounds of the dips due to the presence of anchovies, "an undeclared allergen." The company couldn't recover from such a big loss and went under.
That story will likely keep Lori and Robert out of the bidding. In addition, Lori has an interest in Heidi Ho, a cashew-based vegan cheese. The other Sharks may like the dip, but I don't think Hadley gets a deal. With less than a week to air time, Hadley's website is still under construction. An entrepreneur who gets a deal almost always has their website ready to go before they air. While I think the Sharks will admire Hadley and his story and they'll probably love the dips, I think he leaves empty-handed.