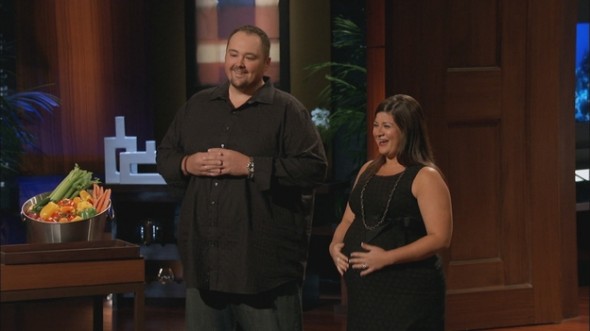 Back 9 Chicken Dips entrepreneurs David and Nique Mealy pitch the Shark s on their buffalo chicken wing flavored dip to the Sharks in episode 404.  The husband and wife team came up with Back 9 Chicken Dips after starting Back 9 Catering when David was laid off as a golf equipment salesman. Patrons at Back 9 Catering events RAVED about their Chicken Dips, so the pair decided to package it and sell it. The couple teamed up with infamous "Shock Jock," Bubba the Love Sponge, and branded their product as Bubba's Back 9 Chicken Dips. They say the product – a blend of chicken breast and sauces – is like "a chicken wing on a chip." Word got out and the couple contracted with a food packing company and started distributing their Back 9 Chicken Dips in Publix supermarkets in the greater Tampa area.
Bubba's Chicken Dip Shark Tank Recap
David and Nique came to the Shark Tank seeking a  $150k investment for  15% of Back 9 Chicken Dips. After sampling the product, Daymond calls the Back 9 Chicken Dips a "chicken slurpee." Mr. Wonderful is reduced to tears of laughter as he envisions chickens thrown into a blender and references the classic Saturday Night Live "Bass-o-Matic" sketch. Between the jokes and laughter, David reveals they have about $400K in sales over the past two years.
Lori likes the dip, but she doesn't think she's the right Shark to help them; she goes out. Mark likes it too, but he's not the right guy; he's out. Kevin thinks the venture has too much risk; he goes out. Robert thinks the food business is too tough; he's out too. Only Daymond is left, but Lori likes David and Nique so much, she comes back in and offers $150K for 25% if Daymond will join her in the deal.
Daymond gets very sentimental, remembering when he first started. David and a very pregnant Nique remind Daymond of himself as he started his business with two small kids; the Mealey's also have a young son. Despite all his tears, Daymond still doesn't invest. After watching the discussion between the Mealeys and Daymond, Robert thinks they deserve a chance and he partners with Lori on the deal. More tears flow as the new business partners embrace.
Back 9 Chicken Dips Shark Tank Update
The deal with Robert and Lori needed to be re-structured because the company's value changed. When the Mealeys taped in July, the dips were in about 400 Publix Supermarkets in Florida. When their segment aired, distribution expanded to over 1,400 stores in several states. Since the show aired, they doubled their supermarket locations, got on the shelves at Costco, and signed a deal with a national food distributor. The Chicken Dips should be available just about everywhere in the USA by the end of 2013! Also, Nique Mealey gave birth to a healthy baby girl on August 13, just a few weeks after taping.
Unfortunately, the Mealey's fortunes with Back 9 Dips were short-lived. After the USDA recalled over 12,000 pounds of the dips due to the presence of anchovies, "an undeclared allergen," the company went under in 2014. Unable to recover from such a devastating hit, Back 9 Dips is no more.
As of August, 2022, Nique is a sales and marketing specialist at Gigpro and David is a head technician at Heron Creek Golf and Country Club.
Posts about Back 9 Chicken Dips on Shark Tank Blog
Bubba's Chicken Dip David and Dominique Mealey
Back 9 Chicken Dips Information