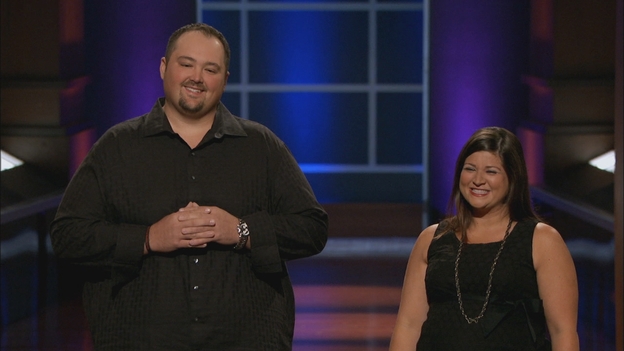 Back 9 Dips entrepreneur David Mealey and his pregnant wife Dominique (Nique for short) had a tear filled, heartfelt segment when they appeared in the Shark Tank last Friday. Tears were flowing from the beginning of the segment when Mr. Wonderful brought himself to tears laughing while comparing Back 9 Dips Buffalo Chicken Dip to the by product of the classic Dan Akroyd "Bass-o-Matic" sketch. Those tears soon became real as Daymond John and Nique connected while discussing "getting that first chance." Finally, there were tears of joy when Lori Greiner and Robert Herjavec came back "in"  to team up on a deal with Back 9 Dips. The race car diving computer mogul and the Queen of QVC split a $150 K investment in return for 25% of the company.
I caught up with David Mealey today and he agreed to an interview. The Back 9 Dips name came from his former life as a PGA Teaching Pro and Callaway sales rep. David is a native of Cleveland who relocated to Florida 10 years ago. He's also a scratch golfer who dreams of playing on the PGA Senior Tour someday. For now, he's content coaching his son's flag football team for recreation when he's not hard at work on his business or helping Nique with new baby daughter Caroline.  Baby Caroline was technically in the Shark Tank with her parents, but she wasn't born until August 13.
Back 9 Dips History
Back 9 Dips was originally a specialty product the Mealeys had in their stable of goodies for their barbecue catering business which they started when David was laid off. From day one, Mealey told me, "people loved it. They kept asking how they could get some and telling us we should sell it." Things really took off for Back 9 Dips when David emailed Bubba The Love Sponge and asked if he could bring some barbecue to the studio; David hoped Bubba would talk up his catering business on the air. Not only did Bubba talk up David's barbecue business, he hired David to cater some of his Bikes for Badges charity events.  The two got to know each other over ribs and chicken dip at these events. "Bubba loved the chicken dip," David said, "he got addicted to it and kept saying we should sell it, so we did." Mr. Sponge remains a minority partner in the business to this day. As Nique said on the Back 9 Dips website, "It was really hard on David when he lost his job. Bubba didn't give us money, he gave my husband something better, an opportunity to work for his money".
"Back 9 Dips started out selling in small shops and the USDA came in and told us we had to get a license, since we were using chicken. We actually went and made the products on location at the various mom and pop stores that were carrying it at the beginning, while we were waiting for the USDA license." All the Back 9 Dips are now made at Big Chef, a Hollywood Florida contract food manufacturer. "It's part of our strategy to use contract food manufacturers, we're looking at proposals from several around the country and one in Canada. I'll also be going to the PLMA (Private Label Manufacturers Association) trade show in November to make some connections."
Back 9 Dips after Shark Tank
The Back 9 Dips website did get a dose of what I call "the Shark Tank effect" at 8PM and 11PM on show night. David told me, "it crashed briefly when we aired on the east and west coasts, but we had someone monitoring it, so it went right back up. It's been a steady flow since." The website got a complete make-over on show night with more nutritional information and a slicker design.
As of the date of our conversation, the deal with Lori and Robert was moving forward. "We're in the due diligence phase; we had to re-negotiate because the value of the company has changed so much since launching in Publix. We taped in June, and the deal with Publix has boosted sales. We were in about 400 stores when we taped in June, we're up to around 1,400 stores now. Our goal is to be a national brand. I have a few solid leads with some other supermarket chains, but we want to make sure the contract food companies we end up working with can handle our product."
David hopes Robert and Lori can help with making more big box connections. He said,  "I just spoke to Robert, but Lori's team is taking the lead. I've even talked to Lori's husband, Dan. The sharks have been great."
What happened in the Shark Tank
"We were in the Shark Tank for about an hour and ten minutes. The edit was fair, but they made it look like the crying was out of desperation. Nique just got all caught up in things when Daymond was telling the story of how he got his first big shot. She was just getting emotional over that. Her feet were hurting too; an hour standing in heels was rough on her what with being pregnant and all. There was also a conversation about Bubba's stake in the company, but they edited that out too. Lori and Robert are aware of Bubba's role, and they're fine with it. The whole experience has been great, we wouldn't have been this far without Bubba's help."
"Right now, I'm focused on the manufacturing end. My dad moved down from Cleveland and is helping with route sales. Nique is handling marketing and community events. We're involved with some of the parties for The Outback Bowl and we'd like to be able work toward a small sponsorship in the future. We are taking off  at a great time. Bubba's Chicken Dip is great football food."
David has even had a conversation with Chef Big Shake, Shawn Davis. "We want to do a surf and turf burger with his shrimp burgers and Bubba's Chicken Dip!" David has purchased the Shrimp Burgers and Nique bought some Wild Squirrel Peanut Butter. He said he hopes to connect with other Tampa area Shark Tank alumni. I told him to call the Nardo Boys, in nearby Clearwater; those guys can eat!
Bubba's Chicken Dip ships nationwide, but if the sharks and the Mealeys have their way, you'll see it in grocery stores nationwide before long. In the mean time, David and his growing family will be working hard to make Bubba's Chicken Dips a Shark Tank success story. He may even still have time to play a little golf too, "but just on Sundays, to relax."
David had these parting words: "People kept telling me I should try out for Shark Tank. I watch the show religiously, and one night, after it was over, I just went to my computer and applied. Like I always say, 'easy yesses don't lead to successes.'"
I had one other question for David, but you'll need to head over to The Hot Dog Truck to get that answer.
Good Luck David and Dominique!