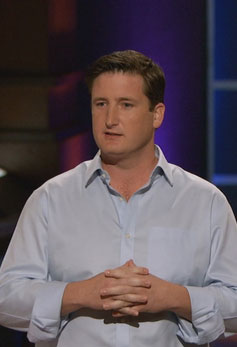 Brian Fleming made time for a post show interview following his Shark Tank debut.
Kevin and Brian Fleming made a big splash in the Shark Tank last week with their comedy laced pitch to the Sharks for their business, BagBowl. Despite a few rocky moments, the brothers got exactly what they were asking for from Lori Greiner: a$40K investment for 33% of their company. I spoke with younger brother Brian Fleming to gain more insight into what has happened since they made their deal.
Post Show Interview – Background
I reported last week that BagBowl was hard to find. Brian clued me in on the problem. "We were originally calling the product InstaBol, but we were having trouble obtaining the trademark for that name. We also found a lot of people were confusing it with 'Istanbul' when they searched for the product, so we decided to hit people over the head with the name and we came up with BagBowl. As a result, we had to change our entire website and we haven't quite got up to speed with the search engines, another problem is we don't own the Bag Bowl dot-com name." It's safe to say, nobody is having trouble finding BagBowl anymore.
BagBowl was invented by Brian's older brother Kevin, who was unavailable to talk today since he was moving into a new house. Kevin is a stay at home dad whom Brian describes as a "product innovator." He's invented other items in the past, one of which is an item originally called the Canine Foot Bath. It is now sold as the Ginsey Paw Cleaner. Kevin also has a fledgling business called Daddio Designs which promises to provide gadgets to "minimize stress and maximize joy for the modern parent."
"Kevin is going to be taking BagBowl and Daddio Designs to some trade shows," Brian explained, "we're hoping our story is building from our appearance on Shark Tank. We want to be seen as two hard-working guys who like to have a little fun. You have to have fun with it."
Brian is a Realtor in Kansas City and he has a marketing background . He's also a partner in a medical transportation company. Both brothers are married and each have three kids. Kevin asked him to join in the project because of the potential they thought it had. They're both life long entrepreneurs. "Neither Kevin or I have ever worked for anybody else. We both started our own businesses right out of college. It was my idea to try to go on Shark Tank, and Kevin just kind of humored me. When we got the call, we decided we would have fun with it."
Post Show Interview Quote – "Cubes"
One of the funniest moments of their pitch, and perhaps the season to date, was when Brian pleadingly called Mark Cuban "Cubes." Cuban went out immediately. "That was how it went down in the studio. I called him "Cubes" and he went out right then. There wasn't any animosity. I don't think he was interested in us and he just saw an opportunity to go 'out' on a humorous note. He told us later, 'people have been calling me Cubes all my life!'"  While Mark Cuban won't be inviting the Fleming brothers to dinner anytime soon, there is no bad blood. It's just one of those funny Shark Tank moments that will live on.
Post Show Interview – Good Television
Some people thought the Fleming brothers were annoying, but a bunch of people I have spoken with thought they were funny. Lori saw something in them, too. "We were kind of targeting Lori," admitted Brian. "We were excited when we found out she was on the panel, we both thought BagBowl could be good on television. BagBowl is a very demonstratable product, so we hope to be on QVC with it someday. We have spoken to Lori, but we are dealing with her team. She's become a brand unto herself, we're very happy to be working with her."
As far as the edit goes, Brian thought it was pretty fair. "They left out a lot, mostly about the evolution of the product. A lot of people have said we looked like clowns. We may have looked like clowns, but we were there for the money, so I think it came out great." When I asked why he almost blew it when Lori gave them exactly what they were asking for, Brian answered, "I was so blown away it was just a momentary lapse of judgement. We were psyched to get a deal with Lori."
Post Show Interview – Advice
"Our pitch was totally scripted, up to the point when the Sharks started asking questions. From that point, we didn't know what was going to happen. I think anyone who goes on Shark Tank needs to know their business inside and out, you need to be prepared for anything. We were stoked to be on the show, It was an honor to swim with the sharks. We're glad we weren't chum, and we're looking forward to growing up from little baby sharks to Great Whites."
I also asked Brian "the Question." His answer is over at the Hot Dog Truck.