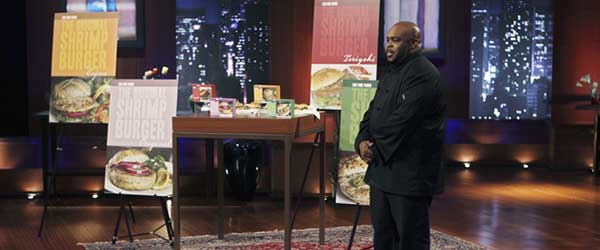 Chef Big Shake (real name Shawn Davis) wants to make his Shrimp Burgers a household staple all across the USA. Shawn, and his company CBS Foods, were featured on last Friday's Shark Tank re-run. Shawn was looking for one of the Sharks to help him roll out nationally. One by one, all the Sharks went "out."
I spoke to Shawn today, and he didn't sound like a guy who was disappointed in not being funded by the Sharks. "Just being on the show changed my life, it changed my business," he said, "I am indebted to the show for the exposure."
Exposure is a word that came up a lot in our conversation. Chef Big Shake has already been featured on Shark Tank three times: his original air date in season two, a "follow up" segment earlier this season, and the re-run last week. His follow up segment will be shown again Saturday, April 21 on yet another re-run. Shawn said the response each time one of his segments airs has been "amazing. The exposure drove our expansion. The big secret is being prepared to capitalize on it and elongate it. If you don't maximize the exposure, the whole thing is a waste of time."
When CBS Foods and Chef Big Shake first jumped into the Shark Tank in season two, the traffic to his website "definitely led us to new servers. When the segment ran last week, the response was almost the same. The show is being watched by a lot more people now." Shawn got a lot of emails from people that could help his growth. "We heard from tons of food brokers, buyer brokers and actual buyers- people who could get us on the shelves," he said, "all that was from being on the show." The Shark Tank appearance led to many other media appearances, including an upcoming segment with David Venable on QVC which will air on May 21. "Just in time for cookout season."
When asked if CBS Foods was making money, Shawn's response was "yeah, man!" Sales have been growing each month and the money from sales has been funding that growth. "The exposure is tremendous," he said, "it's like getting three or four 3 minute commercials on national TV. The media exposure is crazy, it helps when pitching. When they (buyers) ask you what you are doing for marketing and you say 'I was on Shark Tank,' it's better than saying you're going to spend $100,000 on marketing. I'd rather have the exposure than the money." The contract with the producers doesn't allow Chef Big Shake to tout the show on the packaging, but Shawn's smart enough to know how to capitalize on the appearance in other ways. "They require you to put 'as seen on Shark Tank' on our website," he said.
Apparently, Shawn's been successful in getting his products on the shelves. CBS Foods is already in Price Chopper, Giant Eagle, and Marsh stores. His Shrimp Burgers will also be rolling onto 800+ Stop n Shops in mid May and into BJ's Wholesale Clubs in the third quarter. The company is projecting more than $5 million in sales by the end of 2012. THAT's a lot of Shrimp Burgers!
Chef Big Shake thinks he was fairly treated by the editing and even though he was with the Sharks for 25 minutes, Shawn said  the final cut showed him "on an even keel. I don't think anything was left out." When asked about the Sharks themselves, Shawn said "the show gives a good representation of who they are." Daymond John has been helpful to Shawn. "I've spoken with him and he's given me business advice. He's a good dude, he's the real deal and he's there to help." Too bad Daymond didn't go in on the deal for CBS Foods- Shawn could have made him RICH! Shawn thinks the Sharks don't understand the food business. "They're looking for margins of 70% – nobody in the food business, especially the frozen food business, has those kind of margins," he said.
The Shrimp Burgers come in a variety of flavors: Original, Jalapeno, Cajun, and Teriyaki. The success of the Shrimp Burgers has been a nice introduction for CBS Foods' other products which include Lobster Sliders, Lobster Pot Pies and Lobster Mac and Cheese. He's also got a "Finger Lickin Hot Sauce" in the works. The Shrimp Burgers can be baked, fried, or cooked on a flat top grill. "We even have several food trucks buying CBS Foods products down in Florida," he said.
Shawn said he was a big fan of the show. His favorite pitches, other than his own, were You Smell Soap and Hyconn. Chef Big Shake is another testament to the power of the Shark Tank. Even though he didn't get a deal, here he is a year later sitting on a $5 million company. With the kind of distribution he has set up, CBS Foods will get much bigger. Funding on the show doesn't always guarantee success, as we saw with Toygaroo last week, and failure to get a deal doesn't always equal failure, as Shawn has proven. "Shark Tank is a huge vehicle to expose people's dreams, I know CBS Foods wouldn't have come this far without it."
Shawn likes to put wasabe mayo on his Shrimp Burgers, he says cocktail sauce is another popular condiment. I have some issues with condiments myself and I asked Shawn "the Question." You can read his answer HERE.