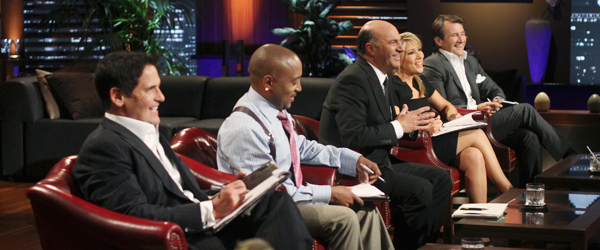 Shark Tank on Friday June 8 brings another summer re-run. The Sharks appearing this week are Barbara Corcoran, Mark Cuban, Robert Herjavec, Daymond John and Kevin O'Leary. This is Episode number 1 for season three, for those keeping score.
Travis Perry, the popular entrepreneur from L.A. (that's Lower Alabama) and the Chord Buddy are first up with the easy, teach yourself guitar system. Robert Herjavec jams out with Travis AND invests in the product! Travis is the most popular entrepreneur among his peers, most likely due to his down to earth, likeable, home-spun personality.
Liquid Money is the cologne engineered to smell like cash and shipped in boxes with shredded dollar bills. It comes in two scents: "His Money" and "Her Money." Entrepreneur Pat McCarthy left the Shark Tank without a deal. The offer from Daymond John at $100K for 80% of the company simply didn't smell good enough for McCarthy. Even without a deal, Liquid Money is well on its way to $1 million in sales.
Tail Lightz are the accessories for jeans pockets that light up when you walk. Entrepreneur Kyle Raineywas looking for $50K for half of his company. He was going to use the money to develop his prototypes. The Sharks weren't too impressed, and one by one, they went "out."
Entrepreneur Megan Cummings brings her scented You Smell Soap into the Shark Tank. Some of the male sharks are impressed by her good looks,and  Cummings had Barbara Corcoran and Robert Herjavec battling it out for an investment. She took Robert's deal, which included a salary. The deal never passed due diligence and was not completed, but Megan has sold a lot of her soap and is  happy she doesn't have Robert as a partner.
The follow up segment features CBS Foods and Chef Big Shake. CBS Foods has had tremendous success since "failing" on Shark Tank. The Original Shrimp Burgers are in grocery stores nationwide and Chef Big Shake told me he was on pace to do $5 million in sales this year. Chef Big Shake told me "Shark Tank changed my life."