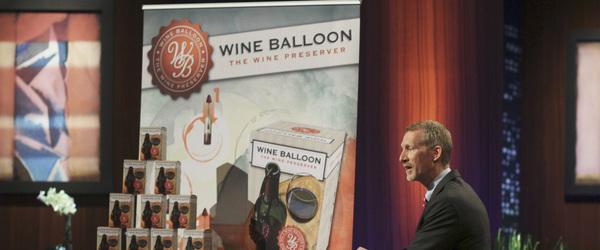 Wine Balloon creator Eric Corti made a big splash in the Shark Tank when he initially appeared in Episode 304 in Season three. His indecisiveness infuriated many fans. As Eric hemmed and hawed over offers from the sharks, Lori Greiner and Mark Cuban, who teamed up on the deal, lowered their offer.
This was a deal that never got done, and at the time I applauded Mr. Corti for not handing over the whole company. Corti didn't stop with the Shark Tank, however.  It would seem the Wine Balloon and it's inventor were destined to be reality TV stars.
Corti recently appeared on Kitchen Inventors on the Food Network. This show is kind of like Shark Tank. Two "invention specialists," Steve Greenberg and Patrick Raymond, "scour the countryside" in search of the next great kitchen gadgets. Each week, they travel to 3 or 4 would be inventors' homes and review their ideas for the next great kitchen gadget. By the end of the show, they present one "winning" invention to their connections at Lifetime Brands in New York. The panel at Lifetime Brands then decides if they will license the invention or not.
This show, while appealing to inventive types, is kind of like "Shark Tank Light." The negotiation aspect is largely left on the cutting  room floor; footage focuses on the entrepreneurs and their stories more so than the business negotiations themselves. The show's hosts visit the inventors in their homes first, and they pick one to take to New York. Inventors whose inventions are chosen either get a deal or not- there is no discussion regarding percentages or dollars involved. Every deal appears to be a  straight up licensing deal.
Corti filmed the segment in December of 2011, well after his summer 2011 taping of Shark Tank and certainly after his deal with the Sharks fell through. He appeared on the new Food Network show this week and struck a licensing deal with the folks at Lifetime Brands. Since the air date, the Wine Balloon website has undergone a complete makeover (as of this writing the site is still under construction) and the name has been changed to Air Cork.
Eric Corti certainly has used television well to create awareness and hype for his patented, innovative product. To my knowledge, he is the first Shark Tank entrepreneur to appear on a second reality based TV show after appearing on Shark Tank. We here at the SharkTankBlog wish him well and we will certainly follow up on his progress!
Here is the video of his appearance: