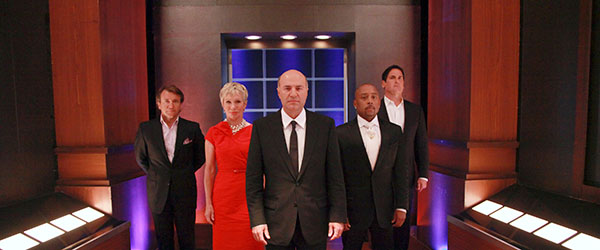 Shark Tank sharks Barbara Corcoran, Mark Cuban, Robert Herjavec, Daymond John and Kevin O'Leary appear on the June 1 re-run of the show.  Fans of the Shark Tank get the opportunity to view all their favorite episodes all summer long to get geared up for next season which features nearly twice as many shows as this season! This Friday's show is no exception.
I Want to Draw a Cat For You entrepreneur Steve Gadlin will bring his hauntingly addictive song into the Shark Tank this week as he seeks (and gets) funding for his wacky and fun Cat Drawing service. I wonder if they will break out new footage of Mark Cuban dancing with Steve like they did on the I Want to Draw a Cat For You follow up segment?
Invis-a-Rack inventor Donny McCall shares his vision of keeping production in the USA. In the months that followed the original airing of this episode, Donny has become a bit of a folk hero for his stance on making it in the USA. He has appeared on network TV and he "told ABC News that he was 100 percent certain he could still make the cargo rack in America. He said that since the show had aired, his company had sold out of cargo racks — a total of 300 — but it had not made a net profit. But McCall said that he was in talks with a manufacturer who wanted to invest in his product and then make and distribute it at stores in six to nine months." Keep up the good work, Donny!
Dave Greco, The Salespreneur, will once again fail to close the deal. In one of the most ironic segments of this season, this Shark Tank entrepreneur who professes to be a master salesman, can't close the deal and rather uncharacteristically unravels before the Shark's eyes. As Dave says in his blog, "unless you're psychic, you won't know every single objection your prospect is going to have." We wish Dave well and hope he has learned from his Shark Tank experience.
Magician and World Champion card Thrower Rick Smith had big dreams of a big Las Vegas show production when he jumped into the Shark Tank. The Sharks are not fond of "show biz" (unless it's their show), so he didn't get the deal. His segment was very entertaining, however. He still travels all over the country performing magic at a variety of venues and has appeared on The Ellen Degeneres Show, Last Call with Carson Daly, Steve Harvey's Big Time, The Wayne Brady Show, and Ripley's Believe it or Not! Rick still has the magic touch.
The follow up segment features CitiKitty, the product that eliminates litter boxes by training cats to poop in the toilet. Entrepreneur Rebecca Rescate was funded in season two by Kevin Harington. CitiKitty did $350,000 in sales in the month following the original air date! This is another product that has its manufacturing in the USA.  Last summer, Rescate told CNN Money she like the fact her manufacturer is only 30 minutes away.