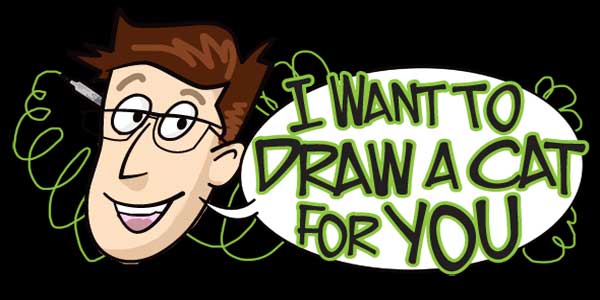 Mark Cuban surprised some people and caused other people to second guess his decision to invest in Steve Gadlin's company, "I want to draw a cat for you". My prediction said Gadlin would be funded by the Sharks. Thanks to Mark Cuban for making that prediction come true.
What surprised me and others, including guys I have lunch, with was the offer for more money than what Steve Galdin asked for. Of course he readily accepted and Mark Cuban joined him in the "I want to draw a cat for you" dance. I wonder if he's going to be doing guest appearances in future company videos? Be sure to watch the future Maverick games, we might see Steve Gadlin doing his dance during half time!
The deal is great for Steve Gadlin and his business. He'll be drawing quite a few cats, even enlisting the help of others to do drawings as well. They might even consider a Mark Cuban as a celebrity drawer for a premium price!
Gadlin is a fun guy, and he not only has a great gimmick, but is a great entertainer. He's got YouTube videos that are hilarious and make you want to buy his drawings so you'll get to see even more videos.
Gadlin started the "I want to draw a cat for you" by partnering initially with Groupon and found that he was able to sell 1,000 drawings quickly. This proves people are interested in his business model, which is something that many Entrepreneurs fail to do prior to approaching investors.
Gadlin came out with an edgy pitch, doing his dance and rap and he had proof that he could sell his drawings after he tested them on Groupon. When he was asked about numbers, he clearly is prepared and easily gave the Sharks the information that they were looking for. He showed them that he had a plan to scale past just himself and has a strategy to take the business to the next level. He had a great pitch and he got more than he asked for. Congratulations to Steve Gadlin.