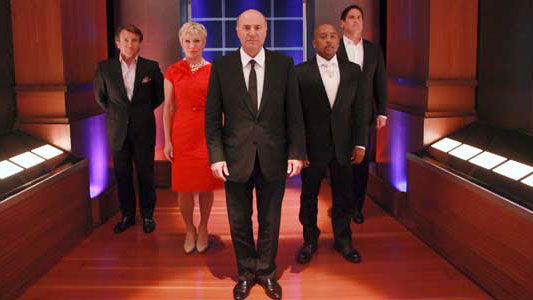 Shark Tank Friday, May 11 is the second to last new episode of season three. Four new entrepreneurs jump into the Shark Tank hoping to fund their businesses for growth. The Sharks appearing on the show are Barbara Corcoran, Mark Cuban, Robert Herjavec, Daymond John and Kevin O'Leary.
Dance With Me is a a dance/fitness program created by Bill Blanks Jr. and his wife Sharon Catherine Blanks. The couple has big plans for taking their exercise certification program nationwide. Will the sharks dance with Mr. and Mrs. Blanks or will they say "drop and give me twenty?"
Mix Bikini is "The World's only interchangeable bikini," according to entrepreneur Frank Scozzafava. The former marketing executive brings his unique brand of mix and match swimwear to the Shark Tank in hopes of building a brand that will be seen on beaches world-wide. Will the sharks get hooked on Scozzafava's idea or will we see a repeat of Jaws?
Wild Squirrel Nut Butter is a collection of custom peanut butters created by self-professed "accidental entrepreneurs"  Keeley Tillotson and Erika Welsh. The college room mates hope to tempt the sharks with their fresh flavors and quirky brand to increase distribution. Will the sharks bite or will they be scraping the young entrepreneurs off the roof of their mouths?
Cab 20 is a 3 piece rock band that plays a hard-hitting, garage/grunge style of music. Band members Bert Hoover, Eric Contreras, and Jason Almanza, along with their manager, Tom Callahan, jump in the shark tank hoping to fund their fledgling rock band. Will the Sharks play along with the band or will the young rockers have to face the music?
This week's follow-up segment features Steve Gadlin and his fun business, I Want To Draw A Cat For You which was funded by Mark Cuban earlier this season. As of this writing, Steve has drawn over 5,000 cats at $9.95 per drawing. He also puts the drawings on tee-shirts and pins. It will be interesting to see if Cuban got his money back yet. I also want to know what Gadlin has up his sleeve for his next internet venture.
Enjoy the show!