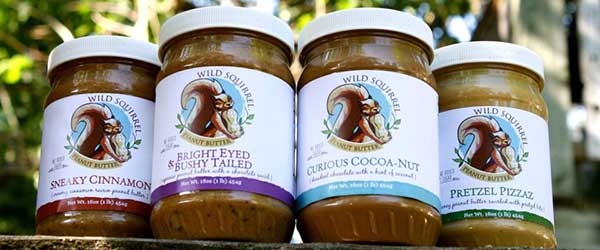 Wild Squirrel Nut Butter was created in a college apartment by University of Oregon room mates and self-professed "accidental entrepreneurs" Keeley Tillotson and Erika Welsh. They bring Wild Squirrel Nut Butter, their line of quirky flavored, gourmet peanut butter into the Shark Tank on Friday, May 11.
The pair "invented" their peanut butter on a rainy night in the dead of winter when they were running low on their staple food: peanut butter. They did have a bag of peanuts and a food processor, so they went to town making the very first batch of Wild Squirrel Nut Butter. Before long, the two gals were making jars of their Wild Squirrel Nut Butter as gifts for friends and family. Everyone liked it and the news of the pair's yummy twist on an old staple spread quickly.
Everyone liked the stuff so much, Keeley and Erika made a website and began selling Wild Squirrel Nut Butter online. The young entrepreneurs soon had too many orders to fulfill from their kitchen, so last fall they sought out an area packer and have produced well over 10,000 pounds of peanut butter. They currently make 5 flavors of Wild Squirrel Nut Butter: Chocolate Sunflower Seed Almond Butter, Vanilla Espresso Almond Butter, Chocolate Coconut Peanut Butter, Honey Pretzel Peanut Butter, and Cinnamon Raisin Peanut Butter. Wild Squirrel Nut Butter is available at many area supermarkets in the pacific northwest and in Minnesota; you may also buy online at the Wild Squirrel Nut Butter website. This sounds a lot like the Kisstixx story: two college room mates creating a business out of their dorm.
Why Peanut Butter?
Peanut Butter is nothing new. Just about everyone probably has a jar in their home; it's a lunch staple in our house. There are many choices too, but, even though I haven't tried Wild Squirrel Nut Butter, I am salivating over the flavors (I am incredibly curious about the Honey Pretzel Peanut Butter). The price point of Keeley and Erika's wares are right for consumers too- Wild Squirrel Nut Butter is anywhere from the same price to just a dollar or so more than a typical nationally branded peanut butter- depending on where you buy it. This makes it accessible and the curiosity/buzz factor will surely win the young women many sales.
The real question is, do Sharks eat peanut butter? I am guessing Wild Squirrel Nut Butter gets funded. The reasoning behind this educated guess is the timing of their expansion. They did raise $10,000 on a KickStarter campaign and they have been active in the Oregon Entrepreneur's Network- a group that helps start-ups.  They also brought home the Audience Choice Award at Angel Oregon, a Shark Tank like contest, which netted them a tidy  $7,500. That's all fine and good, but $17,500 doesn't get you into a packing facility and wide distribution through area supermarkets.
What Happens?
Wild Squirrel Nut Butter began being mass-produced last October. Keeley and Erika state they have made over 10,000 pounds of peanut butter since. Since Shark Tank taped in July, the ladies could have completed their due diligence and gotten things rolling by the fall. I have to believe this was due to an infusion of cash- most likely one of the Sharks. Quality, branded, consumable products that turn a profit appeal to the Sharks- so does attitude. Keeley and Erika seem to be the type of go-getters the Sharks want to invest in. For those reasons, and that Honey Pretzel Peanut Butter, I am "in."