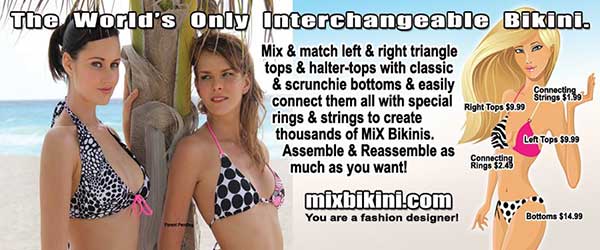 Mix Bikini is "The World's only interchangeable bikini," according to their website. Entrepreneur Frank Scozzafava brings his New York swimwear brand into the Shark Tank on Friday, May 11 to pitch his affordable, fashionable, and interchangeable bikini line. Sharks and bikinis: sounds like the makings of JAWS 5!
Frank Scozzafava started the unique swimwear line in 2011, but he's no neophyte when it comes to the world of business. Prior to launching Mix Bikini, Scozzafava was Vice President of Marketing, Advertising, Branding, and PR at JobDiva Inc., "an applicant tracking and recruitment workflow" software applications company. Before that, he was the Director of New Business Development at Venture Direct Worldwide, a list management and marketing company acquired by MeritDirect in 2010. Clearly, Mr. Scozzafava knows a little something about marketing.
How he got into the swimwear business is a bit unclear, but the concept is pretty straight forward. On the Mix Bikini website, you choose from one of two styles of  tops and bottoms. You can mix and match the colors and patterns of each component to create your own custom bikini. The design interface is very straightforward, easy to understand, and simple to use. In just a minute or two, you can custom design your own Mix Bikini.
Now I don't wear bikinis, but I am a fan! I also have 4 daughters and a lovely wife- all of whom have bikinis. They have been mixing and matching tops and bottoms for years, so the concept itself is not new; the idea of customizing the color combinations as you purchase your swimwear is. Mix Bikini has pricing that will appeal to the mass market; it's under $50 for a complete suit, but when you factor in the mix and match feature, you can create multiple looks by changing out half a top or a bottom for just $10-$20 more. My girls were unanimous- these are cool bikinis!
Will Frank Scozzafava be able to successfully pitch Mix Bikini to the Sharks in the Shark Tank is the big question. Without knowing what he will be asking for, I look at the concept, the website, the price point, and the brand. I, and more importantly my in-house "experts,"  like the concept: mixing, matching, and purchasing the bikinis is fun, easy, and convenient. The Mix Bikini website is sleek and easy to navigate. The price point is perfect for the mass market, my girls would spend the same kind of money or more at a department or big box store for a comparable product. Scozzafava is a marketing guy, so he should be able to successfully brand this product (as he appears to be doing based on the pre-show buzz online).
The obvious target Shark would be Daymond John, perhaps too obvious. When you understand Mix Bikini is a direct to consumer, web-based sales platform, à la Villy Custom from last week and Tower Paddle Boards, the Stand Up Paddle Board company- both funded by Mark Cuban. Cuban likes businesses he doesn't have to babysit and Scozzafava's business fits that model. Based on these facts alone, I would bet Mix Bikini gets funded.
But wait, there's more! According to this website which announces and covers cool events in New York City, "the founder, Frank Scozzafava, made a deal with one of the moguls and the episode will broadcast at the screening event on May 11th." The site goes on to say Mix will "announce a contest where girls will submit photos of their personally mixed bikini throughout the summer for a chance to win a classic, mint condition, Mustang convertible." Sounds like Mix Bikini will be swimming with the Sharks, not getting devoured by them.
I am "in!"