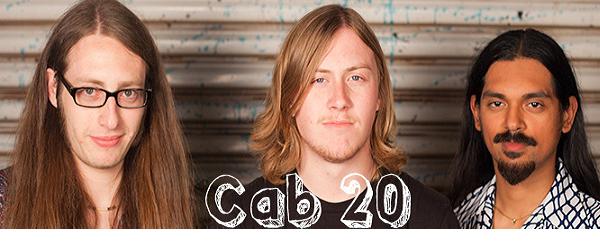 Check out one of their tunes right here. Download Cab 20 music
Cab 20 is the Rock Band that will appear on Shark Tank on Friday, May 11. I am sorry if I am being repetitive, but I can't help but get a little bit excited about this pitch. I write Shark Tank previews, reviews, and predictions every week. I usually find out who is going to be on the show a couple of weeks before it airs by taking the press release from ABC and doing some investigation. ABC does not reveal the actual name of the businesses that will appear on Shark Tank until the Sunday or Monday before the show airs.
Most of the time, I can figure out and find the businesses that will appear before ABC releases the name. On rare occasions, I just can't find a darn thing. That was the case with Sullivan Generator, and that was the case with Cab 20, the garage music, hard rock band that appears this week on Shark Tank. I predicted no deal for Cab 20 yesterday, and I am sticking to that guess. What I do predict is they will absolutely gain a huge benefit from appearing on the show.
When I was a young guy, I bought records, as in record albums (remember those) when I found music that appealed to me; later, it was CD's. I had to either go out to a retail location and purchase a physical item or, if I ordered them in the mail, I would send off a check and wait for my music to be shipped. Today, when you hear a song you like, you have it downloaded onto an MP3 player, Ipod, or computer in seconds. All without leaving your chair.
This is why Cab 20 will kill it Friday night. Just like Miso Music from last month (they sell an Ipad app to help you learn guitar), Cab 20 has a product that can be simultaneously and instantaneously delivered to millions of people at the click of a mouse. Unlike Miso Music, Cab 20 doesn't look for people who want to learn anything; they are looking for fans. Fans come from having a lot of people "discover" you and digging your sound (do I sound too sixtiesish). If someone likes their sound, CLICK- the music is theirs.
Every week I hear tales of entrepreneurs, whether funded by the Sharks or not, who have seen HUGE spikes in sales after their segment airs. These are people who have to take an order, pack a product, and ship it. The Lollacup couple has hardly left their garage in the last two weeks because they have been doing just that. Cab 20 has the technological advantage when it come to online sales: they don't have to do a thing to process sales- just order up a song or an "album" and it's delivered electronically.
The other advantage they have is people will be more prone to sample their "product" before the show airs. If you want to download Cab 20 music, it will only set you back 99 cents. That's not going to break the bank for anybody whereas people may think twice before spending eighteen bucks for a sippy cup or six hundred bucks for a stand up paddle board before seeing the show.
Cab 20 is in a position, if people watching the show like their sound and their story, to make a big pile of cash on show night. The Cab 20 guys must recognize this because sometime between Tuesday morning and Wednesday morning, they re-did their website. I am willing to bet they upped their server capacity too. Whether a rock band belongs on the Shark Tank or not, these young musicians/entrepreneurs are going to clean up. THAT's Show business.
Check out one of their tunes right here. Download Cab 20 music