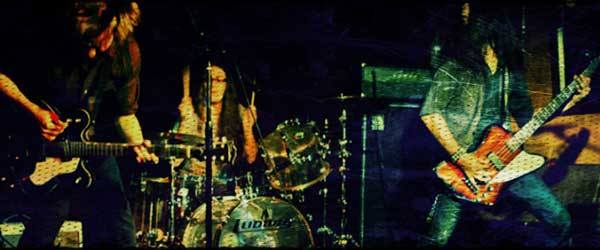 Cab 20 is a rock and roll trio from El Segundo California. In a Shark Tank first, a band seeks funding, for what I am not sure. Band members Bert Hoover, Eric Contreras, and Jason Almanza are all a year or two out of high school and have been tearing up the Southern California music scene with their grungy, gritty, hacksaw guitar buzzing brand of rock and roll.
I spent a chunk of the morning rolling some of their tunes and I like the sound. Cab 20 looks like they are straight out of the 1970's – I ought to know, I was there! Cab 20's lead vocalist and guitarist, Bert Hoover, claims he uses old Sears guitars to get the band's "gritty sound." They kind of remind me of a cross between The Who and The Foo Fighters, Cab 20 has that big, arena sound but with a produced, grunge edge. Bert Hoover sings with  a disaffected, wail/moan of a voice that he isn't  afraid to let rip when appropriate; he also provides a solid buzzing electric rhythm on guitar while occasionally busting out a rock hero solo. Cab 20 Bassist Jason Almanza lists John Entwistle as one of his influencers and it shows. The bass riffs bounce and break all over the place. Eric Contreras, Cab 20 drummer, is a relentless percussionist who has the manic beat of the music on a constantly edgy and frenetic pace. The Cab 20 sound is, as Peter Grant used to describe the Led Zeppelin sound, "tight but loose."
I am glad there are still bands playing this kind of retro rock out there. I am so sick of electronic rap/pop getting all the mainstream music industry's attention. The real question is will the Sharks dig Cab 20. What could a rock band possibly want from the Shark Tank? My guess is they want money for going on the road and maybe for some promotional/marketing materials. The money for a band these days comes from downloads, merchandise, and gate sales at venues (usually a break even proposition).
Cab 20 will need to show the Sharks some cash flow if they expect to get funded. Past entertainment related entrepreneurs looking for funding have not fared well. It is going to come down to how much they are looking for and how they plan to use it. I personally was a shark in the 1990's for a band run by one of my employees' room mates. I broke even on the deal, but I had a helluva time playing rock and roll manager. I am not sure if the Shark Tank panel is looking for that type of experience, though.
Cab 20 probably won't get funded. In fact, if they wanted to stay true to their 60's and 70's rock roots, they shouldn't accept "establishment money." Whether they get funded or not, Cab 20 will be able to introduce their sound to 7 million people. The younger set will like them because they are them. Folks my age will feel nostalgic rolling their tunes too, so they will be introduced to a lot of new fans.
I hope the Cab 20 boys have juiced up their servers for Friday night, because people will want to hear the tracks on their website. With thousands of people hitting their site Friday, it could go down like a blown tube on a vintage Marshall amp. If they want some dough, they should get a Kickstarter campaign up pronto to capitalize on their 15 minutes of Shark Tank fame.
I am "in," but I think the Sharks will be "out."
Download Cab 20 tunes here.
***UPDATE: I wrote this post on Tuesday. On Wednesday morning, the Cab 20 website was completely re-vamped. Was it re-vamped because they got funded or are the young musicians/entrepreneurs being savvy by preparing for the onslaught of site traffic Friday's show is sure to generate? We will see. Rock on boys!***
Download Cab 20 tunes here.