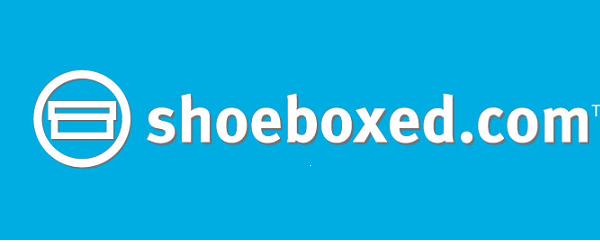 Shark Tank has introduced us to hundreds of entrepreneurs and businesses over three seasons. One thing every business has in common is reams of paperwork, stacks of receipts, and piles of business cards. Organizing all this paperwork is a time consuming task, that's where Shoeboxed comes in.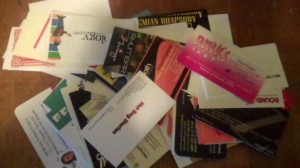 Take business cards for instance. I collected all these business cards in ONE WEEKEND! In that pile are dozens of contacts and sales leads, but they aren't very organized. With Shoeboxed, all I have to do is ship them off in a prepaid envelope and they will take care of the rest. All the data on the business cards will be run through a business card scanner by the folks at Shoeboxed and transferred to a digital contact list that you can transfer into your address box, a Customer Relations Management program, or even an email marketing program like aWebber. What a time saver (and a clutter clearer)!
The Shoeboxed magic doesn't stop there. You can organize all your business receipts into what Shoeboxed calls an "online filing cabinet." Shoeboxed allows you to generate expense reports, invoices, and be all ready for tax season from the scanned data, without a disorganized mess of receipts.  All the digitized data exports easily to the major income tax filing software platforms so there's no need to manually enter expenses for Uncle Sam. Just imagine the time an entrepreneur can save; time better spent on building a business.
All the data is SSL encrypted and backed up on redundant servers, so it's secure. There are business card and receipt scanners that do this available to connect to your computer, but you still have to scan in and configure the data. Shoeboxed takes out the "grunt work" and does all that for you, saving even more time. You can even access Shoeboxed through GMail.
As an entrepreneur myself, I hate doing things that don't move my businesses forward. I want to spend time working on my business, not in my business. Performing menial paperwork tasks, while they are important, is something I would prefer to have someone else do for me. Shoeboxed becomes an inexpensive employee in this regard. I can have all my data organized by them and not have to go to the expense of hiring a book keeper or administrator.
There are varying levels of service, but all are affordable, especially when you consider the resources you'll save when using the Shoeboxed solution. They offer a free trial for each level of service, so you can give them a test drive. It's real easy- almost too easy- to use. Once you try it, you'll be using Shoeboxed for your business too.