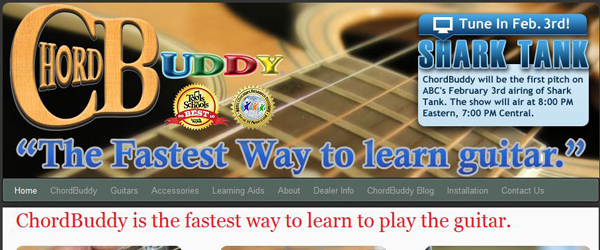 The Shark Tank has yet another re-run in store for Saturday, April 21. This is a re-play of the first episode for season three.  The Sharks appearing tonight are Barbara Corcoran, Mark Cuban, Robert Herjavec, Daymond John and Kevin O'Leary.
Travis Perry is very well liked by his fellow Shark Tank entrepreneurs; nearly every entrepreneur I interview mentions him as being very like-able and friendly. He has lots of peers as fans. This segment is a Shark Tank  classic; Travis gets Robert Herjavec to play the guitar and invest in Chord Buddy, the system to teach anyone to play guitar.
If ever there was a product made for the Shark Tank, it would have to be Liquid Money. The cologne, engineered to smell like cash and shipped in boxes with shredded dollar bills, comes in two scents: "His Money" and "Her Money." Entrepreneur Pat McCarthy walked away from the Shark Tank empty handed. The only offer was from Daymond John at $100K for 80% of the company. That offer didn't smell good enough for McCarthy, so he walked. In yet another example of the power of the Shark Tank, Liquid Money is well on its way to $1 million in sales.
Tail Lightz are the accessories for jeans pockets that light up when you walk. Entrepreneur Kyle Raineywas looking for $50K for half of his company. He was going to use the money to develop his prototypes. The Sharks weren't too impressed, and one by one, they went "out."
Rounding out the foursome for this show is You Smell Soap. Entrepreneur Megan Cummings had Barbara Corcoran and Robert Herjavec battling it out. Megan took Robert's deal, which included a salary. The deal never did go through, but Megan has sold a bunch of soap and is actually happy she doesn't have Robert owning part of her company.
The follow up segment features CBS Foods and Chef Big Shake– whose episode just re-ran on April 6. CBS Foods has had tremendous success since "failing" on Shark Tank. Chef Big Shake told me he was on pace to do $5 million in sales this year and that Shark Tank "changed my life."
Enjoy the show. A new show will be broadcast Friday April 27.