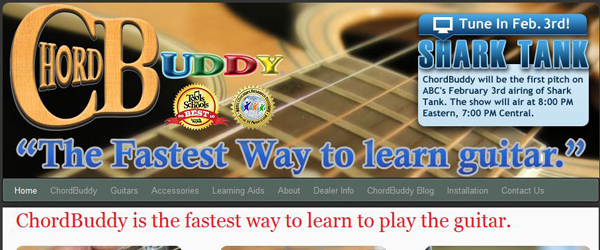 Chord Buddy Entrepreneur Travis Perry developed a system will teach anyone how to play a guitar in two months with his guitar learning system. You don't need a teacher, just a guitar, the Chord Buddy, DVD player and the lesson book. Travis pitches his product on the next episode of Shark Tank to the Angel Investors.
The base kit comes with the ChordBuddy, Instruction book, DVD, a 2 month lesson plan and a song book with over 100 songs. He also sells inexpensive guitars with the Chord Buddy package.  The complete package with guitar is less than two hundred dollars which is quite affordable, but I'm not sure bundling the package with such a cheap guitar is a good idea and it could keep quality guitar manufacturers from recommending the Chord Buddy system.
On the surface, I think he's got a great product. Does it work and does he have the testimonials? We shall see. Does it sell, and how many orders has he taken? I would think his product could command a higher price and may even be under-priced if you consider the cost of lessons.
What would happen to his profit margin if he raised the price? He might find that he sells more products on top of making more on each unit sold. Entrepreneurs often price their goods and services to low, thinking the market won't demand a higher price which makes consumers think the product is not a quality product. A higher price may command more respect and get the margins that would interest an investor like The Sharks.
Travis has a great looking website for his Chord Buddy product, but I'm not sure that it will survive during the airing of the show. The web hosting performance lags with no load on the servers. I hope that he has the allotted bandwidth to handle the traffic he should see when Shark Tank airs.  Travis, if you read this look into making sure your website is ready to go with the bandwidth you're going to need.