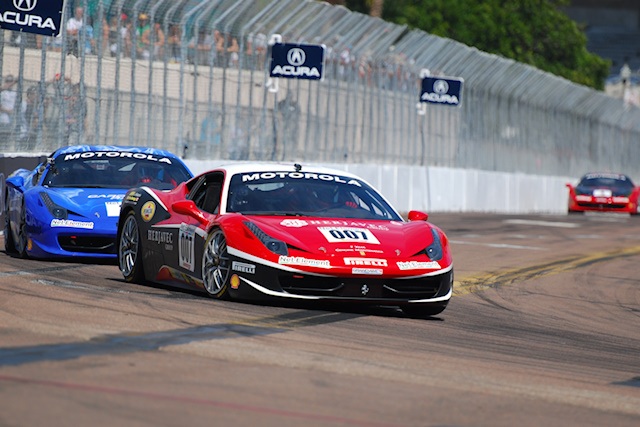 Shark Tank Investor Robert Herjavec is in St. Petersburg Florida where he is racing in the Honda Grand Prix of St. Petersburg Ferrari challenge Coppa Shell. He reportedly won his class (Coppa Shell) in the first of two races, yesterday and will compete in the second race later today, after the Izod Indy Car series runs their opening season race.
UPDATE: Herjavec wins two of two this weekend in St. Petersburg. Congratulations….
Herjavec did an interview with a local ABC news affiliate in St. Petersburg. He mentioned how well Travis Perry is doing with Chord Buddy, a company he invested in during this season's Shark Tank. Perry moved from four to five units a day, to 15,000 units a week! Congratulations to Chord Buddy, Travis Perry for the success.
Robert Herjavec noted in another interview that, "The beauty of America is we have the highest percentage of self-made millionaires in the world." That's an incredible statistic and he's someone who others can look to for inspiration.  Anyone can live their dream if they are tenacious and focused.
Robert Herjavec cited Daisy Cakes as being one deal he thought would go no place but turned into a huge hit, selling thousands of cakes a year. Kim Nelson of Daisy Cakes scored an instant overnight success when Barbara Corcoran invested in her company.
You have to like him even more as Robert Herjavec is donating his profit from Chord Buddy to Charity. Thank you for stepping up and setting a world-class example. That shows that it's not about the money for him, it's about the love for what you do and that's probably why this Shark and Ferrari Challenge Driver has done so well in life.
Herjavec is originally from Croatia and immigrated to Canada with his hard-working family. He is a rag to riches story with incredible passion that often comes out during Shark Tank episodes.