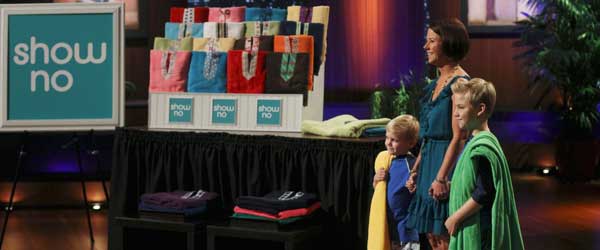 I spoke with Shelly Ehler of ShowNo, the entrepreneur who made Shark Tank history by being funded on the spot when her segment aired. My favorite Shark wrote her a check and agreed to help Shelly bring her business to new heights. Shelly's product, The ShowNo has received a lot of press and Shelly herself is one of the most popular entrepreneurs to appear on the show to date.
Shelly Ehler and I spoke for a good 45 minutes today and after our conversation was over, I had to come back down to earth. She is so energetic and inspirational, you can't help but smiling and feeling an inner glow after speaking to her.  She walked me down the path from her experience on the show to where she is today.
It's Show Time For Shelly Ehler
On the day of the show, each entrepreneur is kept in a little room with a loud air conditioner so they cannot hear the other pitches. The entrepreneurs are sequestered and don't have a chance to talk to each other prior to taping. Just like the sharks, the entrepreneurs have no idea what to expect. Shelly Ehler turned off her air conditioner because she was getting chilly and was immediately reprimanded by one of the producers who promptly turned it back on. She did manage to sneak a peak at the monitor when she went to get a granola bar for her son and she got "cold feet" because she caught Mark Cuban absolutely ripping the entrepreneur who went before her.
Undaunted, when her turn came, she calmly marched into the room and began her pitch. Before long, she said she had all the Sharks "eating out of my hand, but I managed to keep my fingers." All of the Sharks were "very kind" and Mark Cuban said to her, "Shelly, we're a lot alike, we're bulls. We don't knock on doors, we knock them down." Shelly was glad to get on Cuban's good side because, "If he likes you, whether he funds you or not, he'll let you know. He'll also let you know if he doesn't like you." Each and every Shark felt Shelly Ehler had "made the right choice even though Mark said 'No you didn't.' I was  humbled by the experience and really connected with each and every one of them."
We all know Shelly Ehler was successful in getting an offer. Lori Greiner wrote her a check on the spot. The next day, Shelly confessed to being "blown away and in a state of shock. I felt like I had just won the lottery, but I could barely talk." Lori called her the day after the pitch, which snapped her out of her funk.
"Lori Greiner and I had a great conversation. She really makes things happen, I don't know how she does it- she's got to be the busiest person I have ever met. I feel when you are on the right path in life, doors open up for you for the right reasons. Lori shared a similar experience with me. When she was developing her first product, she needed to get connected to people who knew about injection molding for plastics. She went to a wedding and ended up being seated at a table with people she didn't know. It turns out some of them owned an injection molding company not far from her home! It was destiny."
Shelly Ehler says Lori Greiner feels very lucky about her own success and genuinely wants to give back. Right after the show, Shelly and Lori spoke daily. "Lori really took the time to get to know me," Shelly said. After the show taped, "it took two months just to do the deal. Once the fourth quarter hit, Lori got real busy with QVC and we didn't speak much." These days, they speak about twice a month but communicate via email on a regular basis.
Lori Greiner is just now getting to sourcing production for the ShowNo. Shelly is still focusing on Waterpark sales, but they "have a big deal in the wings." Shelly still fulfills small orders on her own and sources orders of one hundred units or more to a local manufacturer. "I'd eventually like to see the ShowNo in major retail outlets like Bed Bath and Beyond, but Lori cautioned me to walk before I run."
I asked if the Show No was making any money. "A little bit," she answered, "we didn't have that 'Midas touch' some of the other entrepreneurs had because we didn't have a warehouse full of product. I believe God gives you what you can handle and I know I am going to get that 'moment.' I know it is going to explode." She has another product in the works that she thinks will be bigger and better than the ShowNo; she's wasn't sharing any details because they are still doing the patent work now.
Shelly Ehler confesses to reading our blog regularly and she says she has developed a friendship with Raven Thomas, of Painted Pretzel fame. Raven even sent her some pretzels (this was the first time I got jealous during our conversation).  Even though she loves the pretzels, Shelly's favorite pitch this season was The Chord Buddy. "I play guitar, so I got it. Plus I thought Travis  had a genuine kindness and sincerity." When asked which product she would have funded if she were a shark, she chose Invis-a Rack. "I used to do woodworking and I've owned a truck, so I get where his wife was coming from. I also like what he's trying to do." Shelly even got a Cat Drawing from I want to Draw a Cat for You.
Despite all the success she has encountered, Shelly says the "best part about being on Shark Tank is connecting with people. It is changing my life. I know I have a special purpose to give  hope and courage to others.  It means so much to me."