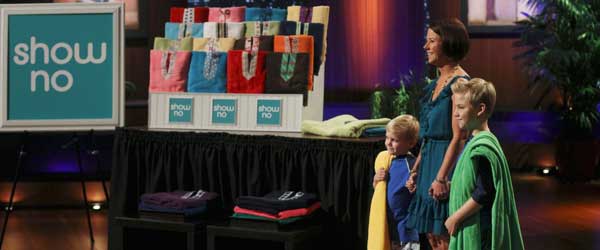 Shelly Ehler, the California mom, ex-teacher, and entrepreneur who had one of the most successful Shark Tank pitches to date will have another whack at Prime Time when her episode re-runs on a special Saturday night addition of Shark Tank.  Shelly Ehler is the creator of the ShowNo Towel, the poncho-like towel that allows kids to change in and out of their swimsuits with a degree of modesty. If you missed the first run of this episode, don't miss it because Shelly had the sharks  eating out of her hand- and she managed to keep all her fingers!
Also on this episode is Ivori Tennelle, inventor of the Swilt, a sweater and quilt invention  that is eerily similar to the Snuggy on steroids.  Eric Corti, a wine connoisseur, showcases his invention to keep opened wine bottles sealed air-tight better than anything else on the market.  Also in the Shark Tank, Kelly Chaney presents her natural and healthy cake mix – for dogs. The follow up segment for this Shark Tank Episode features Sean Conway and DJ Stephan's company, Notehall, an online marketplace where college students can buy and sell class notes.
The real star of this Shark Tank Episode is Shelly Ehler. My favorite Shark, Lori Greiner writes her a check ON THE SPOT. As Shelly explained the other day, Lori "really makes things happen." The day after the show taping, Shelly was literally  "blown away and in a state of shock," until Lori called and talked her out of her funk.
Shelly Ehler is an inspired entrepreneur and if you missed this Shark Tank Episode the first time around (heck- even if you didn't),  you should definitely watch it. I am glad they are running this show again, it is one of the best Shark Tank episodes of this season.
Check out more Shark Tank Success Stories