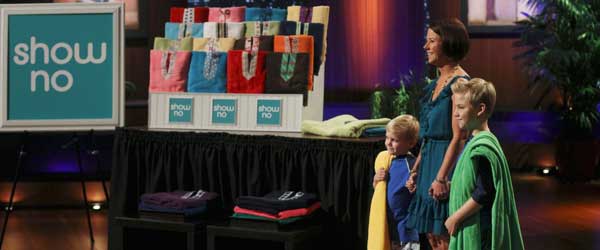 Shark Tank presents Shelly Ehler a stay-at-home mom who substitutes as a school teacher part-time. She was at the pool with her kids and covered her son with a bath towel as he changed in public, while her younger son complained that it was his turn. That's when she thought of ShowNo, a product designed for changing under the poncho-like towel.
ShowNo it turns out is a great idea and is now available at Legoland and Six Flags Magic Mountain Water Park. She's even showcased it on the Today show in their new products segment.
Shelly understands the trials of having a business, her husband lost his during the recession and it even cost them their home. Still her ShowNo website is very inspirational and her husband is very supportive encouraging her to go on Shark Tank. She says she lost 10 pounds from nervousness before the show, but when the moment came, she was ready.
ShowNo comes in eight different colors with 17 different styles giving something for everyone. Will the Shark Tank investors say that's too many styles, or will they like the choice? Her cost per unit and potential to take this nationwide will come into play, and they'll question her if she's got a patent to. Still, I think that the Shark Tank investors are going to like this one.
I recently watched an interview with Daymond John of Shark Tank. He said that he was trying to move into other type of markets besides the fashion industry and Barbara Corcoran won't be on this show.  Bring in the Queen of QVC, Lori Greiner and I see her jumping in big time on this deal.
Shelly and her company ShowNo is an inspirational story and I think it's about to get even bigger. This one scores a deal on Shark Tank.