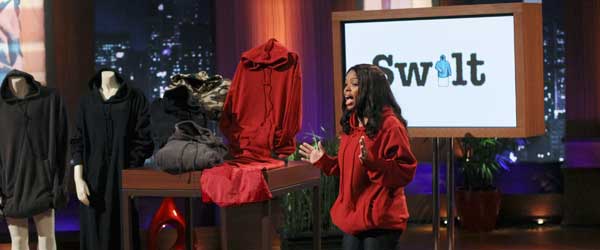 This Friday, Ivory and Wallace Tennelle present the Swilt on Shark Tank in hopes to get exposure and investment from The Sharks. They will definitely get the exposure which should send their sales spiking. I'm betting if they have a reasonable ask that they will get the money too!
The Swilt is a sweater and quilt combination that is easily and comfortably worn as a sweater with a quilt built in for games, fishing or anywhere that you need to warm up. Roll out the quilt portion and you're going to find a foot pocket that is waterproofed and fleece lined.
The Tennelle's had the idea over six years ago, but didn't do anything about it until the Snuggie came out in 2008. When they saw how well it did, they knew they could do better because they had a more functional product and in 2009 the Tennelle's set out to make their dream a reality.
I've read up on them and even been out to their website which looks like it's ready to handle orders this Friday. They've done a nice job telling their story. Social media is in place and they even have YouTube videos.
They've got their social media started off but they don't have an affiliate program, something that I think they seriously need. If they want exposure, a strong affiliate program would be a great way to get your name all over the world. They should consider looking into what Share-A-Sale could do for them.
The Tennelle's could take their marketing a step further by using their blog to tell the stories of their customers and even run a list building campaign that would notify fans about new blog posts. Tools like AWeber are perfect for people who would opt in and want to read the stories.
I'm thinking that they got the money. The site looks great, and I might even expect to see them pitching their products on QVC. Great job.