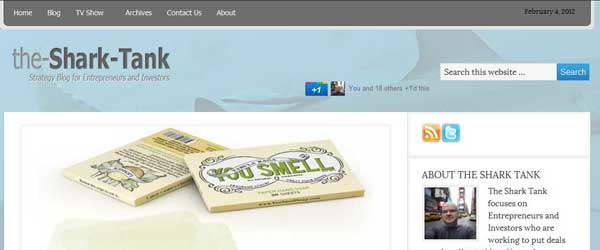 Week one isn't even done and it's been a huge success thanks to you, the people who have come to read the posts in this site. Keep coming back daily as fresh content is added often.
This site, The Shark Tank, launched on Monday and it hasn't even been a week and the numbers are huge! This is the best site launch I've ever done and we're just getting started. Without much content, we've got great numbers and the great news is that loads of content will be quickly coming into the site.
We're going to focus on helping Start-Up Entrepreneurs connect with Investors by telling their stories and showing them where to find them. Along the way, we're talking about the best show for Entrepreneurs on TV which is the inspiration for this site.
The Start-Up companies appearing on new episodes of Shark Tank will be previewed on this site. The lessons learned on the show will be reviewed and we'll show you strategies to overcome the obstacles the Entrepreneurs face.
The soft launch of The Shark Tank featured Start-Up company previews of third week season three. With minimal content, the first week traffic blew me away!  Get ready to watch The Shark Tank become one of the most successful and read Entrepreneurial Start-Up sites online.
I'm looking for Start-Up companies that want to be profiled on this site, The Shark Tank. While we're not the TV show, I'll get you exposure that you won't find elsewhere and once here, it keeps around the clock, seven days a week, twenty-four hours a day.
If you are an investor and you would like to review sites, let me know too. I welcome your input into the show previews and reviews as well as talking about Start-Up companies appearing on this site.
That brings me to asking for your help. Please give me feedback on what you like and don't like about the site, the posts and anything else having to do with this site. You can use the Contact Us form, or reply in the comments section. I will do my best to help make this a site that you want to visit every single day.