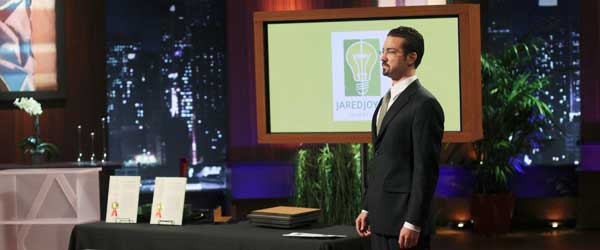 Jared Joyce knows the Shark Tank has developed a huge audience. What makes the Shark Tank so appealing to so many people? I like the abrupt and sometimes borderline viciousness of the Sharks. The banter amongst the panel of Sharks is one of the reasons people watch the show, but it's the entrepreneurs who make or break it. Many of the entrepreneurs who appear on the Shark Tank, whether they get funded or not, have fantastic ideas that will make them millions; they are ultimately what makes  the show so compelling.
One recent entrepreneur who made a big splash in the Shark Tank is Mr. Jared Joyce, who is most famous for his "buy me a drink first" comment when the sharks asked him if he would partner on all his inventions. He took some heat for not  selling 100% of his Five Minute Furniture product line, but he had no choice- he had other investors to consider.
Jared Joyce is a good example of maximizing the PR value of  a Shark Tank appearance. Other than Scott Jordan, he has probably squeezed the most publicity out of a "failed" pitch than any other Shark Tank entrepreneur. He was live streaming video during his show appearance and he made a huge splash in social media co-promoting the show the week he appeared. During his post show broadcast online, he made the very poignant statement "it takes ten years to become an overnight success, I'm in year eight."
He hasn't let up either. Jared Joyce is a guy who you could call a serial inventor; he has over 50 inventions in the works. He's also a terrific example of a guy who uses all the resources available to entrepreneurs to bring their products to market. His appearance on the show was quickly followed by Daymond John's announcement of a partnership with Edison Nation, an entrepreneurial incubator that funds promising inventors; coincidence or not, it brought attention to this entrepreneurial vehicle.
Another avenue for entrepreneurs is Walmart's Get On The Shelf contest. Walmart invited "businesses and individuals to submit products that are not sold by Walmart, and are going to let the public vote for their favorites. There will be three winners, getting a shot at selling on Walmart.com and enjoying valuable free marketing support. The grand prize winning product could be carried by Walmart's physical stores too. Winners also could get guidance on scaling up production to meet Walmart demand. All contestants will get some free visibility, and who knows where that could lead!"
Guess who has over 40 products in this contest? If you guessed Jared Joyce, you are right. Jared can only win if the public votes for his inventions, so we here at the Shark Tank Blog are going to give him a boost and we hope our readers will too. Jared has compiled a list of his top ten submissions to the Get On The Shelf contest and he's asking our readers to go on over and vote. Just follow the instructions and links below; vote early and often!
If you'd like to support the voting effort my recommendation is that you simply open another browser window in which you open a separate tab for each product link.
Then set your browser to automatically reload your tabs when you reboot your computer.
This way you can quickly vote for all the products each morning with the click of a button all without any additional prep work. Thanks!
1. "TITAN Water Bottle"
http://www.getontheshelf.com/product/2701/TITAN-WATER-BOTTLE
2. "The ERGO-CB"
http://www.getontheshelf.com/product/3492/The-ERGO-CB
3. "Personal Ice Cube Tray"
http://www.getontheshelf.com/product/3446/Personal-Ice-Cube-Tray
4. "World's Best Root Beer Float"
http://www.getontheshelf.com/product/3480/World's-Best-Root-Beer-F
5. "Screw Bit Screw Holder"
http://www.getontheshelf.com/product/3457/Screw-Bit-Screw-Holder
6. "Cheer Bands"
http://www.getontheshelf.com/product/3472/CHEER-BANDS
7. "Tool & Vacuum Power Grid"
http://www.getontheshelf.com/product/3489/Tool-&-Vacuum-Power-Grid
8. "The Ultimate Framing Hammer"
http://www.getontheshelf.com/product/3483/The-Ultimate-Framing-Ham
9. "Upward Arc Faucet"
http://www.getontheshelf.com/product/3464/Upward-Arc-Faucet
10. "Vemo"
http://www.getontheshelf.com/product/3494/Vemo