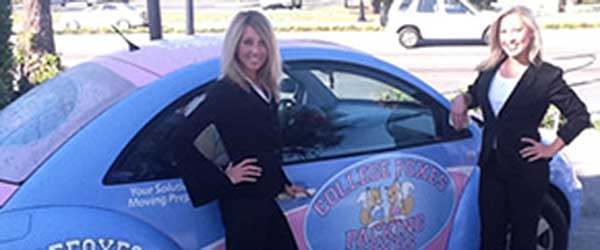 College Foxes Packing Boxes appeared in Shark Tank Season 1 with a unique business model that spun off another popular business, College Hunks Hauling Junk.
Entrepreneurs, Nick Friedman & Omar Soliman pitched their new idea to the Sharks looking for an investment, but what I really think they came for was publicity. It's clear that their new business is doing well, even expanding from packing boxes to include cleaning services, something that compliments the packing and hauling business.
College Foxes Packing Boxes came in to the Shark Tank with a reasonable ask of $250,000 for 25% of the business, unfortunately The Sharks wanted more than just College Foxes Packing Boxes, they wanted a part of College Hunks Hauling Junk as well. Nick Friedman & Omar Soliman didn't warm up to that idea because they already succeeded with the first business and were simply looking to duplicate the next business.
INC Magazine named Nick Friedman & Omar Soliman in the top 30 young entrepreneurs walking in to the Shark Tank.
Nick Friedman & Omar Soliman stated that they were planning on adding a CFO Fox to run the new business.
College Hunks Hauling Junk had sales of $500,000 and a profit margin of 20%. They started it with no investment and don't see putting the opportunity together.
Kevin O'Leary offered them $250,000 for 51% and after walking out of the room to discuss, they came back and fired back at $1 million dollars for 10%.
Kevin got out and the guys came back and said, "this is where you stop talking" and Kevin made a very good point, "Never insult money."
They priced their business based on future opportunity, not what it's worth today which is a huge mistake that Entrepreneurs make. Fortunately for them, they are doing well, likely because of their sweat equity they built-in the business.
They passed on a final deal from Robert Herjavec for $250k for half of College Foxes Packing Boxes and 10% of College Hunks Hauling Junk. These guys are hustlers, they had a great offer but they also are so confident in their own ability that they walked without taking the deal.
I think the Nick Friedman & Omar Soliman did the right thing, especially if they never raised money after their appearance. They own the business and have control without having to answer to  shareholders. There is something to say for that.