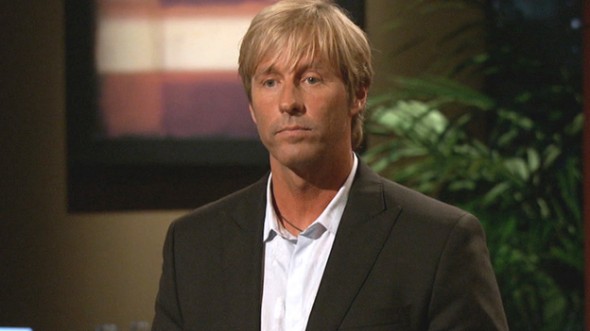 Seasoned tech entrepreneur Henry Penix pitches Zomm in Shark Tank episode 404. Zomm is basically a key fob that connects to your cellular phone via Bluetooth and emits an alarm when it gets about 20 feet from the phone. They call it a "wireless leash" for your phone. It's the perfect device for people who are always leaving their phone behind. It also acts in reverse so you can find your keys with your phone. Other features include a personal security alarm feature. Zoom is global; Henry is selling it in the USA, Canada, Europe, most of Africa, Australia, and China. The product won numerous awards, including a CES Innovation award in 2010. Zomm is patented and had $5 million in sales in 2011 and $7.2 million in 2012.
Zomm Shark Tank Recap
Henry came into the Shark Tank asking for $2 million for a 10% share in the business. The Sharks are intrigued by the product, but concerned about the numbers. Henry personally invested $4 million of his own money and raised another $5 million from venture capitalists. They've spent over $1 million in research and development.  The business is also sitting on $2 million in inventory as a result of over production for the 2011 Holiday season.
Mark thinks there's too much into the business already, so he's out. Robert thinks the company is near death, so he's out too. Daymond quickly follows Robert out. Lori likes the product, but thinks something is not quite right, so she's out too. Kevin LOVES the sales numbers, but doesn't like the nearly $10 million in debt, he's out too.
Zomm Shark Tank Update
Zomm saw their web traffic and sales explode after appearing on Shark Tank. They had over 250K visitors to their website in the week following their appearance and made a LOT of sales. Zomm continues to roll out their "personal concierge" service which allows you to dial 911 and a set list of numbers when there is an emergency. It's the "I've fallen and I can't get up" product of the digital age. Zomm will continue to enhance its personal concierge going forward.
Henry shuttered the business in February, 2018. He is now Chief Executive Officer at Soaak Technologies, Inc., a company that "fuses ancient techniques with cutting-edge biotechnologies, addressing mental health and wellness."
Posts about Zomm on Shark Tank Blog
ZOMM Bluetooth Personal Concierge Laurie & Henry Penix
Company Information