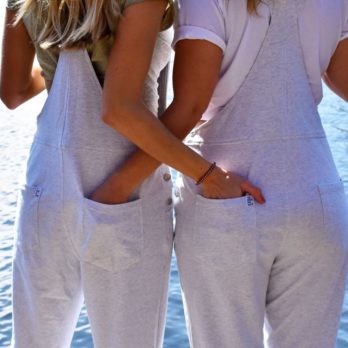 Swover Alls are over-alls made out of sweatpant material. Kyle Bergman "invented" them after seeing a pair online. The problem for Kyle was, they were only available in women's styles and sizes. When he couldn't find any for men, he made his own.
When it came time to turn Swover Alls into a business, Kyle used crowdfunding sites to make sales. He raised $259,318 on Kickstarter, IndieGoGo and Backer's Club campaigns. Now, he sells them for $95 a pair on his website. They come in "Dude" and "Dudette" styles in a wide variety of colors and patterns.
Bergman sources from sustainable suppliers to make Swover Alls. They're made from cotton, recycled polyester and a "hint" of spandex. The result is what he calls "the comfiest thing you never knew you needed." Bergman used his connections as a NYC fashion buyer and Israeli Men's National Lacrosse team player to get the word out about Swover Alls for the crowdfunding campaigns. Now he wants a SHark to make his unique loungewear a household name. Will a Shark wear these?
My Take on Swover Alls
This looks like something I would have totally wanted when I lived in Massachusetts. It's cozy, comfy. lounge around the house clothing. Now that I live in Florida, I lounge around in shorts or a bathing suit. Swover Alls look a bit too toasty for Florida's warm weather.
I do like the idea of marrying over alls with sweat pants. It's definitely a comfy sounding combo. $95 seems a bit pricey though – I'd like to see them about $25 less. He sold them on the crowdfunding sites at $55 a pair. I'm sure Bergman can get the price down that low and still turn a tidy profit. Now if he'd only make some in dry fit fabric….
Do Sharks Find a Fit?
Even though Bergman had a lot of  crowdfunding success, that doesn't necessarily translate into Shark Tank success. This reminds me a bit of the Dude Robe from season nine. That business didn't get a deal, but they're selling well on Amazon. Like Dude Robe, Swover Alls suffer from the "product not a business" objection.
The Sharks may be impressed enough by Bergman's fashion marketing experience that there could be interest. If he has other products in the pipeline he may get lucky. My sense is that he doesn't get a deal though. What he'll get is a nice commercial for his company and hopefully sell a ton of products.