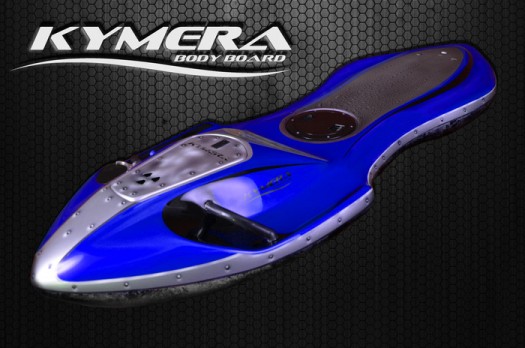 The Kymera electric body board is the coolest new product to come to the Shark Tank since the SoloWheel. Entrepreneur Jason Woods has been develeoping this product for nearly ten years and he hopes to get some Sharks to invest in episode 501 on November 1.
Kymera is billed as a personal watercraft, kind of like a jet ski or a skidoo, but it's more like a surfboard than those. Simply put, Kymera is an electric body board that's a far less expensive alternative to a jet ski. The electric engine is quiet and a lot greener than a gas guzzling jet ski. You can also carry the Kymera under one arm, like a surf board; try doing THAT with a jet ski! With speeds up to 15 MPH, it isn't as fast as a jet ski, but when your hanging onto a body board, it probably feels a lot faster.
The hull is made from the same materials they use in white water kayaks, so it's durable. There's a "life saving package" option that includes a remote control to swiftly send an electric body board through rough water (or a rip tide) to a struggling swimmer. With extra battery packs and an optional solar charger, the Kymera can run all day at the beach. They aren't in production, but you can order them with a 50% deposit.
I Would LOVE an Electric Body Board
This is a cool invention. I spend a lot of time on the water in the summer time and we like our beach toys. We have a sunfish, kayaks, wind surfer, and several small boats. I'd love to see an electric body board added to the mix. The Kymara looks like a lot of fun and the life-saving aspects can't be ignored. I WANT ONE!
Do Sharks Body Board?
I don't think you could look at the Kymera and not think the product is ultra-cool. The problem Woods will have is convincing the Sharks that the business is sound. Kymera raised $165K on Kickstarter – normally a healthy sum, but far short of the $250K Woods was asking for. He's been working on this product for 10 years – a long time to bring a product to market.
The Sharks will have some concerns about the length of time it's taken to get this thing off the ground (or in the water as the case may be). If it's a viable product, why has it taken so long to develop? If Woods can answer this question intelligently, the Sharks may bite. Perfecting something that's essentially a whole new class of personal watercraft can't be easy.
I don't think Lori will bid on this. Daymond probably won't either. I can't speculate for John Paul DeJoria, but O'Leary might offer to help license it. Mark Cuban seems the best fit. He's had success with Tower Paddle Boards, which is in a similar vertical, so he could snatch up Kymera if the deal is right. I'm in, but if Cuban isn't, Kymera will be riding their electric body board out of the tank with no deal.
***UPDATE*** Kymera started a new Kickstarter campaign on the night before they aired. Their website is down too. This furthers my suspicions that there's no deal in the Shark Tank, but doesn't make Kymera any less cool!