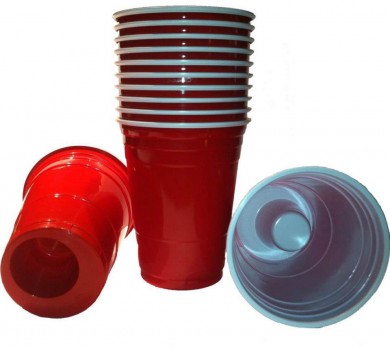 180Cup will bring Sharks and viewers back to the days of college and keg parties. It might just have some folks playing the Shark Tank Drinking Game too! Entrepreneur Soloman Falls hopes the Sharks see the utility of the "standard red drinking cup" with a shot glass embedded in the bottom. simply do a 180 with your cup, and it's got a whole new purpose.
180Cup isn't rocket science, it's designed for people who want to drink. Tap the keg, fill up, and when it's shot time, you're good to go. Judging from the Facebook photos on the 180Cup page, it looks like people are putting the 180Cup to good and proper use. It can't be a coincidence that 180Cup is pitching on the night John Paul DeJoria debuts as a guest Shark: DeJoria owns Patron Tequila – a beverage that gets knocked back in shot glasses on a fairly routine basis.
My Shot at 180Cup
I don't do many shots – anymore. I'm more of a beer or martini type of guy. "Back in the day," however, shots were a routine item on a night out with friends. Back in college, the ubiquitous red party cup was a weekend staple. Beer is a big part of our culture and any product that makes drinking beer more fun will find a market.
The only thing that concerns me about 180Cup is the shot glass is on the bottom. I don't know about anyone else, but I've left my beer on some pretty skeevy places. I'm not sure I'd want to put the bottom of my cup to my lips. That said, after a few beers and with the promise of a shot, I'd likely let some inhibitions fly to the wind.
Will the Sharks Take a Shot?
If Falls has this product patented, 180Cup could make him rich. I have to believe John Paul DeJoria, with his liquor connections and interests would make a play for this product. I can hear Mr. Wonderful offering a license deal all the way from Saskatchewan too. The business is so simple, any Shark could blow it right up. Mark could use it in his theatres, Daymond could pitch it to the New York Nightclub crowd and Lori could sell them on QVC. I think 180Cup gets a deal; I'm in too, with a bottle of Patron!