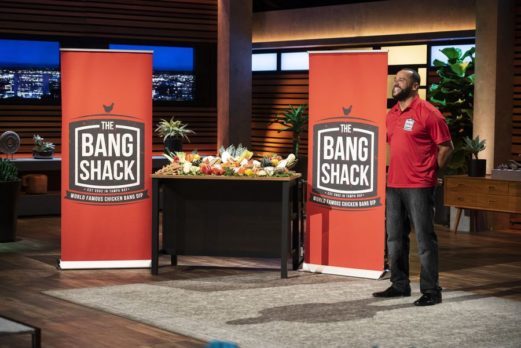 Jason Hadley wants to get a bang out of the Sharks when he pitches The Bang Shack in Shark Tank episode 1020. The Bang Shack is a stand he operates at a farmer's market in Hollywood, Florida. His products include a chicken dip, a zucchini based vegetarian dip and a cashew based vegan dip. He's been selling his wares to loyal customers at the farmer's market since 2017.
Jason first "discovered" Bang Shack chicken dip when he was invited to an industry networking event in 2002. He always loved cooking so he kept making it for friends and family with rave reviews. In 2016, he and his wife went to the farmer's market and she suggested he sell his dip there. They got started in early 2017 with two crock pots and Bang Shack's original chicken dip. He gradually added the two other products.
Jason didn't always have it so good. He grew up in a poor family and his single mom worked 2 jobs. Jason often cooked for his younger siblings. His first brush with entrepreneurship came at age ten when he sold candy bars door to door. At age 15, he became a very young father and he found his inner drive to succeed. He sold cars, furniture, mortgages, houses and internet optimization services throughout his sales career before he started this business.
Jason wants to partner with a Shark so he can grow his business and get his Bang Shack dips in grocery stores. Will a Shark think this business is a Big Bang?
The Bang Shack Company Information
Video

Posts about Bang Shack on Shark Tank Blog
Bang Shack World Famous Chicken Dip
Bang Shack Shark Tank Recap
Jason enters seeking $80,000 for 20% of his business. He's got infectious enthusiasm the Sharks admire and they LOVE his dip when they taste it. His back story brings some Sharks to the verge of tears. BUT, they don't like Jason's lack of infrastructure and production capabilities. The Sharks unanimously agree its's not an investable business at this time and no Sharks make an offer.
The Bang Shack Shark Tank Update
The Shark Tank Blog constantly provides updates and follow-ups about entrepreneurs who have appeared on the Shark Tank TV show. As of August, 2019, Jason's website declares: "Ordering will be available again soon. We apologize for any inconvenience!" He's offering his dips on a "pre-order" basis, so it appears he may be having trouble breaking out of the farmer's market business model.
As of May, 2021, He opened a brick and mortar restaurant in Hollywood, Florida. You may still order the dip online as well as some other menu items. As of January, 2023, annual revenue is around $1 million.