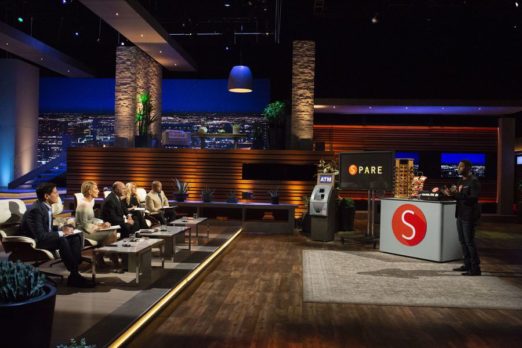 D'Ontra Hughes wants a Shark to help him kill ATM machines with Spare, his app that's a virtual ATM, in Shark Tank episode 1019. Hughes founded Spare in 2013 and it's one of only a few Apple "whitelisted" mobile banking apps out there. It uses the app as a virtual ATM, allowing participating merchants to ditch ATMs and their processing fees. Spare actually pays merchants to dispense cash to customers, too.
With the app, a customer can request cash from a participating merchant. Customers upload funds to the app from a bank account, PayPal or other account; select the amount they want to withdraw, then request the cash from a nearby participating merchant. The merchant wins because they get foot traffic, reduce ATM fees and get paid by Spare to dispense cash. Less cash on hand means fewer trips to the bank for the merchant, too.
There are three competing apps that do the same thing as Spare, but they're all overseas. D'Ontra hopes to be first to market in the USA. So far, the company raised $347,000 in three rounds of funding – all of them convertible notes. It's unclear how many merchants signed on to date, but the company is looking for part-time employees to refer merchants. So far, it's only available on Apple devices, but Android can't be far behind.
Hughes likely wants a Shark to help with merchant acquisition as the more merchants that offer the service makes the app more valuable. Will a Shark want to invest in this ATM killing technology?
Spare Company Information
Video

Posts about Spare on Shark Tank Blog
Spare Shark Tank Recap
D'Ontra enters seeking $500,000 for 3.5% of his business. The valuation causes the Sharks to audibly gasp. As D'Ontra explains the business model, he's peppered with questions about the logistics of expansion. The Sharks think merchants won't want to keep a lot of cash on hand for the app's customers.
One by one, the Sharks drop out, but Mark stays in. He offers $500,000 for 12% plus 2% advisory shares and D'Ontra accepts.
Spare Shark Tank Update
The Shark Tank Blog constantly provides updates and follow-ups about entrepreneurs who have appeared on the Shark Tank TV show. As of July, 2019 – four months after the original air date, this deal hasn't closed. It's not listed on Mark's website as one of his Shark Tank companies. The app still hasn't expanded beyond the City of Los Angeles either. It looks like this deal with Mark is dead.
As of June, 2021, the deal with Mark never closed. D'Ontra continues to grow the business and has partnerships with Master Card, LiteLink Technologies Inc. and others. The Litelink deal, struck in June, 2019, allows  uBuck customers to use the Spare network.
As of June, 2023, the company is still in business and has annual revenue of $4 million.