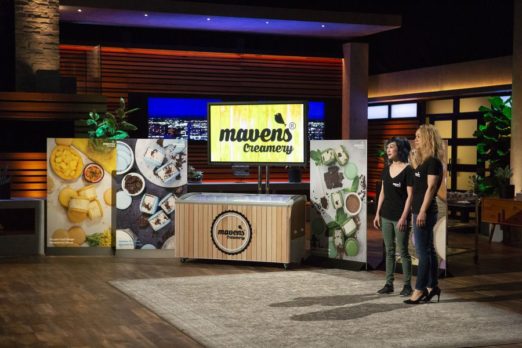 Gwen and Christine Nguyen seek a deal for Mavens Creamery, their macaron ice cream sandwich business, in Shark Tank episode 1019. Macarons are a French cookie made with almond powder or ground almonds. They're not to be confused with macaroons which are made with coconuts – not almonds. The Nguyen sisters pack delicious, premium ice cream inside and make ice cream sandwiches that are taking California by storm.
The sisters started Mavens Creamery in their parents' garage back in 2014. Without any culinary experience, they perfected their ice cream sandwiches and debuted at a local dessert shop. They sold out of 400 sandwiches that day and knew they were on to something. In 2015, they moved to a commercial kitchen and it was nothing but growth from that point on.
They sell 16 packs of Mavens Creamery products on their website for $100 – that's $6.25 each. If you live in California (or Carson City, Nevada), you can pick up their ice cream sandwiches at one of over 300 independent retailers and Safeway supermarkets. With a multitude of flavor choices, you're sure to find something you like. The Nguyens likely want to expand nationally and want a Shark's help. Do Sharks eat macarons?
Mavens Creamery Company Information
Video

Posts about Mavens Creamery on Shark Tank Blog
Maven's Creamery – Macaron Ice Cream Sandwiches
Mavens Creamery Shark Tank Recap
Gwen and Christine enter seeking $400,000 for 10% of their business. As they hand out product and explain the business, it's clear the Sharks like the product. The women explain that they're so successful, they're having trouble keeping up with demand. They want an investment to scale and automate production and for funding purchase orders.
While the Sharks like the ice cream sandwiches, they don't like the thin margins and high valuation. As the Sharks raise objections, Barbara jumps in with an offer for $400,000 ($200,000 cash and a $200,000 credit line) for 33.3% of the business. She says she'll also provide other funds as needed. The sisters briefly confer and counter with 25%. Barbara agrees and they do the deal.
Mavens Creamery Shark Tank Update
The Shark Tank Blog constantly provides updates and follow-ups about entrepreneurs who have appeared on the Shark Tank TV show. While Maven's isn't listed on Barbara's page as one of her entrepreneurs, the sisters are touting their Shark Tank appearance on their website in the summer of 2019. The deal with Barbara never did close after all. Since airing in April 2019, they've expanded retail distribution to Colorado, Kroger's Markets throughout the Midwest, Whole Foods in the Northeast and several other market chains including King Soopers, Vons and Pavilions. They continue to distribute through Safeway in California and Nevada. It appears they're keeping up with production!
The company introduced ice cream in addition to the ice cream sandwiches. They want to have international distribution through a franchise model by 2023. As of June, 2022, they expanded into more Whole Foods in the eastern USA and California. They are also in Albertson's in California. As of September, 2022, they plan to launch in Costco – a deal that was in the works pre pandemic but got put "on hold." It looks like they are no longer in Kroger's at this time. As of January, 2023, the deal with Costco has still not closed. Annual revenues are $3 million.