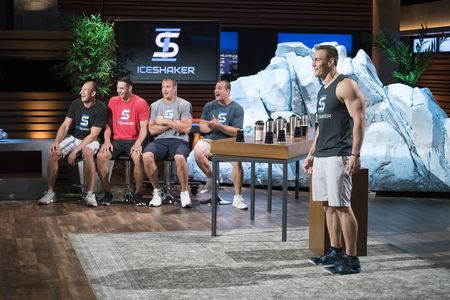 Chris Gronkowski and his brothers Rob, Dann, Glenn and Gordie want to huddle up with a Shark for an investment in IceShaker, Chris' double wall vacuum insulated bottle. Gronkowski, like his famous brother, played college football. Since his NFL career was cut short due to injury, he wanted to follow in his father's footsteps as an entrepreneur.
Chris still works out and drinks a lot of protein shakes. The IceShaker keeps drinks cold for hours and won't spill when vigorously shaken. It's also great for water, coffee or any other drink. It's made from odor free, double walled stainless steel. The BPA free top stays securely in place at all times. Inside, there are fill lines for mixing shakes or other drinks.
Each IceShaker is 26 ounces and costs $39.99. They're available on Amazon and the company website. The only reason he'd need a deal with a Shark is more widespread branding. Will Chris shake up the Tank and score a deal?
IceShaker Company Information
Video

Posts about IceShaker on Shark Tank Blog
Ice Shaker by Chris Gronkowski
IceShaker Shark Tank Recap
Chris and his brothers come into the Tank seeking $100,000 in exchange for 10% of the business. Chris told the Sharks he had to work out and get big muscles because he's the shortest Gronkowski brother. He didn't like the shaker bottles that were currently on the market, which inspired him to invent the IceShaker. The stainless steel, vacuum sealed design insures drinks will stay cold for up to 36 hours. The bottles won't sweat or hold onto odors the way plastic shakers do either.
The Sharks loved the "Gronks" and their enthusiasm. They've all played professional sports, too. The Gronks challenged the Sharks to a chugging contest: Sharks vs. Gronks. The first team to drink the water in their cups and flip them over wins. Of course the Gronks won, but they handed out consolation prizes: product samples.
After the hoopla, Mr. Wonderful attacked the valuation. After touting the unique benefits of the product, Chris explained they'd done $80,000 in sales, with $35,000 coming in the most recent month. The margins are good: $5.00 cost and a $25.00 price tag. They're selling them on Amazon, some retail and off their own website. Kevin likes the Gronks – he's a fan, so he offers $100,000 for 20%.
A-Rod is interested. He owns a bunch of gyms and thinks there's synergy. He asked Mark to come in with him. Mark ups the ante to $150,000 for 20%. Mark also pledged to use it in the Mavs locker room. Lori had some suggestions but Mark said he wanted an answer right away.
Barbara offers $100,000 for 10% and Lori offers $100,000 for 15%. All the Sharks are in! Chris asks if Lori will join Mark and A-Rod, but Mark doesn't want to do that. A-Rod says he made a deal with Mark and he's not backing out. Chris counters with $150,000 for 15% and Mark and A-Rod agree!
IceShaker Shark Tank Update
The Shark Tank Blog constantly provides updates and follow-ups about entrepreneurs who have appeared on the Shark Tank TV show. Since airing and closing the deal with Mark and A-Rod, Chris added 7 new colors, a 16 ounce size shaker, and reusable stainless steel straws. Their website claims they've sold "millions of dollars worth of products."
IceShaker gets an update segment in episode 1007, an episode where A-Rod is once again a guest Shark. We'll learn more once this airs. In the update, it's revealed that the product did $3 million in sales in the year following the original air date. They built out an Amazon Store, too. After the update segment, Rob bought out A-Rod's shares in the business. As of June, 2021, the company has settled in to a nice annual revenue stream of $1 million. AND ROB GRONKOWSKI WON THE SUPER BOWL WITH TOM BRADY AGAIN!