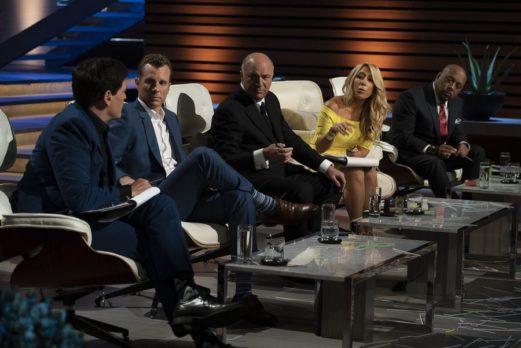 Shark Tank is back for a tenth season and episode 1001 is the season premier. Guest Shark Jamie Siminoff, a former business owner who pitched Doorbot (RING) in the Tank back in season 5, is the first of many guest Sharks appearing in season 10. Siminoff declined a deal with Mr. Wonderful in season five, but ultimately built his business and sold it to Amazon for $1 Billion, surpassing Mr. Wonderful's wealth!
Siminoff and the other four Sharks will evaluate four new businesses in the season 10 premier. Emma Cohen and Miles Peppers hope the Sharks want to help them protect the oceans with Final Straw. It's a reusable, stainless steel drinking straw that fold up inside a small key fob for easy transport. Heidi and Cory Santiago want to cook up a deal for Bear Minimum, their portable, folding cookware. Tripp Phillips and his father Lee seek a Shark to help them with Le Glue, a water-soluble, temporary glue for LEGO projects. Brad Ruffkess wants to put an end to porch piracy when he shows of BoxLock. It's an app enabled padlock that lets delivery drivers leave packages in a locked container.
Which business gets the first investment of the new season?
Entrepreneurs
---
Update Segment – Recap of past success stories
Tonight's update segment features a montage of past Shark Tank Success Stories, including Ring.
There are 28 Shark Tank Episodes for Season 10. This season features more appearances by "guest Sharks," including billionaire Sir Richard Branson. The 200th episode also airs this season. Casting is currently closed, but it never hurts to get a head start on season ten! If you would like to appear on the show, check out our Auditions and Casting information.
Episode 1001 – The Shark Investors and Entrepreneurs
The Shark Tank Episode 1001 entrepreneurs will make their best pitch to the panel of five Shark investors who will use their own money if they choose to invest. The Shark Investors negotiate on the spot without any previous information, which differs from typical negotiations between venture capital investors and entrepreneurial start-ups.
Companies pitching the Shark Investors must go through a rigorous due diligence process before an on-air deal is completed. Shark Tank Blog follow ups help you keep track of the companies that end up successful and the ones that don't complete their deal.
Thank you for reading SharkTankBlog, the number one site for Entrepreneurs, Investors and Fans. Our content updates multiple times day, giving you the latest information on Episode 1001, Season 10, and all other seasons and episodes.
Episode 1001 Press Release
Shark Tank: SEASON PREMIERE – Episode 1001 (10/7)
SEASON PREMIERE
BACK FOR A MOMENTOUS 10TH SEASON, ABC'S 'SHARK TANK' RETURNS;
AND FOR THE FIRST TIME EVER, CHIEF INVENTOR OF RING AND FORMER 'SHARK TANK' ENTREPRENEUR, JAMIE SIMINOFF, EARNS A SEAT AS A SHARK IN THE
SEASON PREMIERE, SUNDAY, OCT. 7
"Episode 1001" – An entrepreneur from Atlanta, Georgia, introduces a smart device designed specifically to protect your packages from package thieves; an unexpected entrepreneur from Dalton, Georgia, invented a nontoxic and non permanent adhesive created for kids, by a kid; entrepreneurs from Santa Fé, New Mexico, and Los Angeles, California, believe they have created the solution to plastic straws and want the Sharks to suck responsibly with their new product; and husband and wife entrepreneurs from Spokane, Washington, believe they have created the next evolution in camping cookware and hope to change the way people eat outdoors, on the season première of "Shark Tank," SUNDAY, OCT. 7 (10:00-11:00 p.m. EDT), on The ABC Television Network, streaming and on demand.
The Sharks in this episode are Mark Cuban, Kevin O'Leary, Lori Greiner, Daymond John and guest Shark Jamie Siminoff.