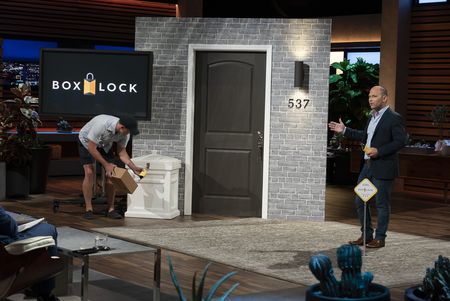 Brad Ruffkess hopes a shark will help him defeat "porch pirates" when he pitches BoxLock, an app enabled padlock, in Shark Tank episode 1001. Box Lock works with any lockable receptacle. Users download the accompanying app  and synch it with the lock. When a delivery driver shows up with a package, they scan the bar code and verify with the lock. The lock opens, the driver leaves the package in the box and locks it back up. Then the customer receives a notification from the app that the package was safely delivered.
Delivery drivers love this product because it cuts down on "lost delivery" reports that occur. 42% of city dwellers, 26% of suburban residents and 18% of rural residents have experienced package theft. The BoxLock can eliminate the problem. The company recommends the receptacle be bolted to your home so thieves can't walk off with the entire receptacle.
This product seeks to replace Amazon Key, which allows Amazon delivery drivers to unlock the front door of someone's house when making a delivery. Many people are uncomfortable with that arrangement for obvious reasons. BoxLock is cheaper than Amazon Key, too. The lock is only $129 and Amazon Key is around $300. Of course with Box Lock you still need to buy a receptacle – which you can buy on Amazon or the company website too..
Ruffkess got his business going with a successful Kickstarter campaign that raised a little over $54,000 in early 2018. Most pre-orders were fulfilled by August. All in all, backers were happy with both the product and the fulfillment. Too often, Kickstarter campaigns have difficulties fulfilling orders on time. Ruffkess likely wants a Shark to help him with cash for further growth.
BoxLock Company Information
Video

Posts about BoxLock on Shark Tank Blog
Box Lock – Preventing Porch Piracy
BoxLock Shark Tank Recap
Brad enters the Shark Tank seeking $1 million for 5% of his business. He tells his story and gives his pitch, making note that 30% of Americans have been victims of porch pirates. He demonstrates how it works and hands out samples of the locks. Kevin remarks about how another entrepreneur (guest Shark Jamie Siminoff)  came in looking for a ridiculous valuation.
None of the Sharks are crazy about the valuation. Jaimie is the first out, citing the valuation and the fact that you need to change consumer behavior. Mark, Daymond and Kevin follow, citing the valuation and training curve for delivery drivers as reasons. Lori offers a $1 million loan at 8% interest plus a royalty, but after she can't bring Jaimie back in with her, she declines Brad's counter offer and goes out.
BoxLock Shark Tank Update
The Shark Tank Blog constantly provides updates and follow-ups about entrepreneurs who have appeared on the Shark Tank TV show. Apparently, this is another one the Sharks missed on. In March, 2020, the company raised $4.5 million from former executives at DHL, Pitney Bowes, Amazon and Microsoft. Many members on the company's board of directors came from the shipping industry. They see tremendous opportunity in curbing the $83 billion package theft problem.
They branched into making lock boxes for lab specimen logistics, construction (for tool storage) and elections. As of June, 2022, the company has annual revenue of $13 million. Could this be the next Ring?