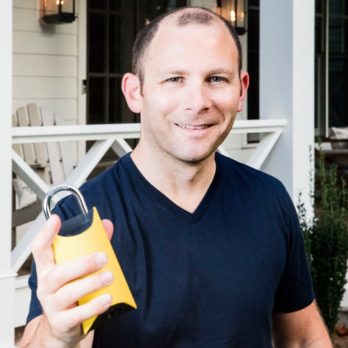 Brad Ruffkess hopes Box Lock is to package delivery as Ring is to door bells. Ruffkess introduces his smart lock in Shark Tank episode 1001. The product tackles a growing problem: porch pirates that steal packages. As many as half of all packages delivered in urban areas get stolen each year. That causes a lot of headaches for consumers, businesses and shipping companies. BoxLock solves the problem.
It's a smart lock that acts as a padlock. People put a locking receptacle near their preferred point of delivery at their home and lock it up with the Box Lock. A delivery driver simply scans the package bar code with the lock's scanner to open the lock. Once he places the package in the box, he locks it up and the customer is notified via an app. It's a simple solution.
Ruffkess is no stranger to entrepreneurship. His first venture was an internet venture called LazyCampus, "an aspiring network of local portals for individual college communities." He claims he missed "inventing Facebook by one bullet on one slide." After eight years with Coca Cola, he started Box Lock. With $54,000 from a Kickstarter campaign, he managed to ship his first round of products on time.
Ruffkess likely wants a Shark to help him with his next production round and with expanding the business. Will he be able to lock up a deal?
My Take on Box Lock
With the explosion of online retailing, even Amazon has a method to prevent porch pirates. The Amazon Key service lets Amazon delivery drivers open your front door to deliver a package. At $300, the service is pricey, plus many are uncomfortable with letting strangers have access to their home. BoxLock is a logical alternative. The lock is only $129 and a box is required, so the total cost is comparable to Amazon Key, but it's less intrusive.
This is such a common sense idea, it falls into the "why didn't I think of that" category. I don't receive a lot of packages at home – maybe twice a month – but I have been the victim of a porch pirate. Someone stole a shipment of vacuum cleaner bags from my front steps. I got them replaced, but it was a hassle. If I was receiving as lot of packages, I'd want this product.
Will Sharks Lock In?
It's no coincidence that Jamie Siminoff is on the panel for this pitch. The Ring Doorbell made him a billionaire. Box Lock seems like a logical extension of Ring. Imagine if all those Ring customers had interactivity with BoxLock? It's a logical pairing.
That said, logic doesn't always play in the Tank. Siminoff may have a no compete clause with Amazon and Box Lock competes with Amazon Key. Other Sharks got involved with lock companies, too. Last season, Mr. Wonderful invested in Benjilock, a finger print activated padlock for bicyclists. Within a few months, he brokered a licensing deal. Perhaps he can broker a similar deal for Mr. Ruffkess' business.
Mark Cuban invested in UniKey back in season three. UniKey is a smart phone enabled lock. The deal with Cuban never closed, but UniKey went on to partner with KwikSet, a well-known lock manufacturer. Locks are a thing people will always want and need and Mr. Ruffkess could very well lock in a good deal for his business, with or without a Shark.