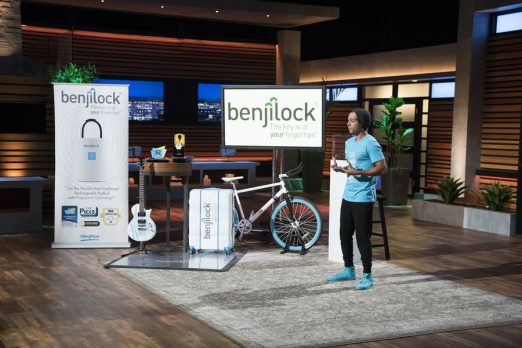 Robbie Cabral hopes to lock up a deal with the Sharks for BenjiLock, his fingerprint activated padlock, in Shark Tank episode 901. Cabral was a big hit at CES in 2017, as it was named an Innovation Awards Honoree in the Smart Home product category. The lock uses fingerprint hybrid patent technology which Cabral invented.
He started the company in 2013 in Los Angeles and spent the past four years perfecting the technology. Essentially, your fingerprint is your "key" for an otherwise traditional padlock. The lock recognizes up to four fingerprints and comes with a standard key in case there are problems, like the battery losing power. BenjiLock claims it will hold a charge for a year.
So far, the product isn't for sale. When it is available, it should cost around $80. Various press releases say it will be available in the fourth quarter of 2017. So far, the website only has an email sign-up form for notification of availability and links to BenjiLock's various social media sites. Cabral likely wants a Shark's help launching his product.
Will Mr. Cabral lock in on a Shark and get an investment?
BenjiLock Company Information
Video

Posts About BenjiLock on Shark Tank Blog
Fingerprint Padlock by Benji Lock
BenjiLock Shark Tank Recap
Robbie entertained offers from A-Rod and Mr. Wonderful. They both liked his spunk and ingenuity. They also liked the patents he had on his product. A-Rod wanted to do business with Cabral because they share Dominican roots, but the savvy of Mr. Wonderful won the day as Cabral agreed to a $200,000 investment for 15% of the business.
BenjiLock Shark Tank Update
The Shark Tank Blog constantly provides updates and follow-ups about entrepreneurs who have appeared on the Shark Tank TV show.
After making the deal, Mr. Wonderful sought licensing opportunities for BenjiLock. After watching the episode, the CEO of Hampton Products International, a hardware and security company, called Mr. Wonderful who brokered a licensing deal. Hampton obtained all North American rights to the product. They put the locks in Walmart, Home Depot, Lowe's, Amazon and more.
In an appearance on CNBC, O'Leary and Cabral got a visit from Kim Kelley – the aforementioned CEO. Kelley handed Cabral his first royalty check for $100,000. In episode 919, Benjilock gets an update segment where we'll hear an announcement about this licensing deal.
In August, 2020, Cabral introduced the Fingerprint Door Lock. It's for locking doors and garages. The unit stores up to ten fingerprints and has a pin pad to enter a code to unlock the door too. In 2021, Robbie introduced the BenjiLock Fingerprint Bike Lock. It won the 2021 TWICE PICKS Award for innovation at CES. As of August, 2022, Robbie's net worth is estimated at $1.5 million and Hampton continues to sell the locks. Annual revenue is $5 million.