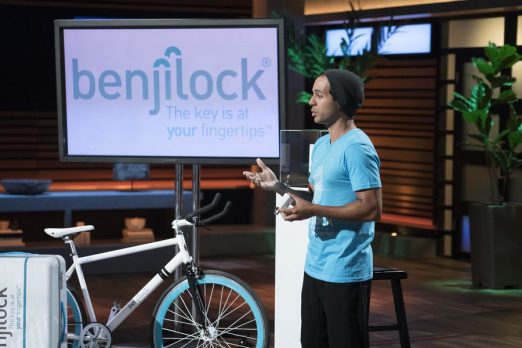 Robbie Cabral was the darling of DES in early 2017 when he introduced Benji Lock to the world. The Benji Lock takes the several thousand year old padlock and brings it into the 21st century. What makes it special is, instead of a key, your fingerprint opens the lock. There are keys too, in case the batteries die, but the fingerprint technology made this the hottest "must have" gadget of the year.
Unfortunately for Cabral, Benji Lock isn't available – yet. The website has nothing but an email sign-up form on it, but the buzz is the lock will be available "in the fourth quarter of 2017." Cabral is actively seeking investors at various conferences, including Innovate Celebrate, co-hosted by the Consumer Technology Association. He's at that show the weekend before he airs on Shark Tank in episode 901.
Whenever Benji Lock becomes available, it's sure to be a big hit. There are many smartphone enabled locks on the market, but this is the first fingerprint activated one. Privacy advocates may have a problem with this, but most people will embrace the convenience. At around 80 bucks, it isn't too expensive either.We'll see if Cabral can lock up a deal with a Shark.
My Take on Benji Lock
I own two padlocks and I've had each for more than 20 years. A padlock isn't something I would go buy because it's cool, I'd buy it when I need it. I don't see a need for a new padlock in our house in the foreseeable future, but if we need one, I'd give Benji Lock a try. I like the fact that I don't need a key, even though I haven't had problems with keys for my entire life.
At 80 bucks, it's more expensive than a typical padlock, but not much more than a "premium" lock. As the "internet of things" becomes more ubiquitous, more products like Benji Lock will be available. Whether this is a good thing or not is a matter of opinion, but I'm in.
Will Sharks Lock up a Deal?
A few years ago, Mark and Kevin bid $400K for for 40% of Unikey – a smart phone enabled lock. That deal never closed since Phil Dumas decided to get funding from another source. He eventually partnered with Kwikset under a licensing arrangement.
That deal shows the Sharks are interested in technology enabled "everyday" devices like locks. Everybody has several locks of one kind or another and most people own a padlock or two (or more). Locking up a bike or shed with a Benji Lock is something everyone will want to do.
I can see multiple Sharks bidding on this, especially Mark and/or Kevin. Benji Lock gets a deal on air, but we'll see what happens after the Tank.